2018 budget won't cater for new districts – Minister
Related Articles
he proposed 38 new districts will not have dedicated allocations from the Local Government Ministry's 2018 budget.
The Legislative Instruments seeing to their creation are yet to mature, thus the proposed districts are not yet to be recognized on government books to receive budgetary allocations by way of seed money.
"The fact is that, you can't even say anything for the new districts. The same parliament will ask: where are the districts? We have not approved any districts. So until the LIs mature, you cannot ask for any money for any district,"  the Minister for Local Government and Rural Development, Hajia Alima Mahama noted to Citi News.
However, Hajia Mahama explained to Citi News that the new districts, when formally recognized, will draw funding from the District Assemblies Common Fund to start their activities.
"We will stake seed money from the District Assembly Fund to start the districts. So we explained to the committee that we cannot budget for districts because they are not yet there. The LI is not yet in place. The formula [for the allocation] will come before Parliament, so we will meet with the economic management committee, and put it in the formula, and the formula will come to parliament for approval."
The Akufo-Addo government presented the LI for the creation of 38 new districts and municipal assemblies to Parliament in November.
The LI is to mature in 21 sitting days from Thursday, November 16, 2017, when it was laid.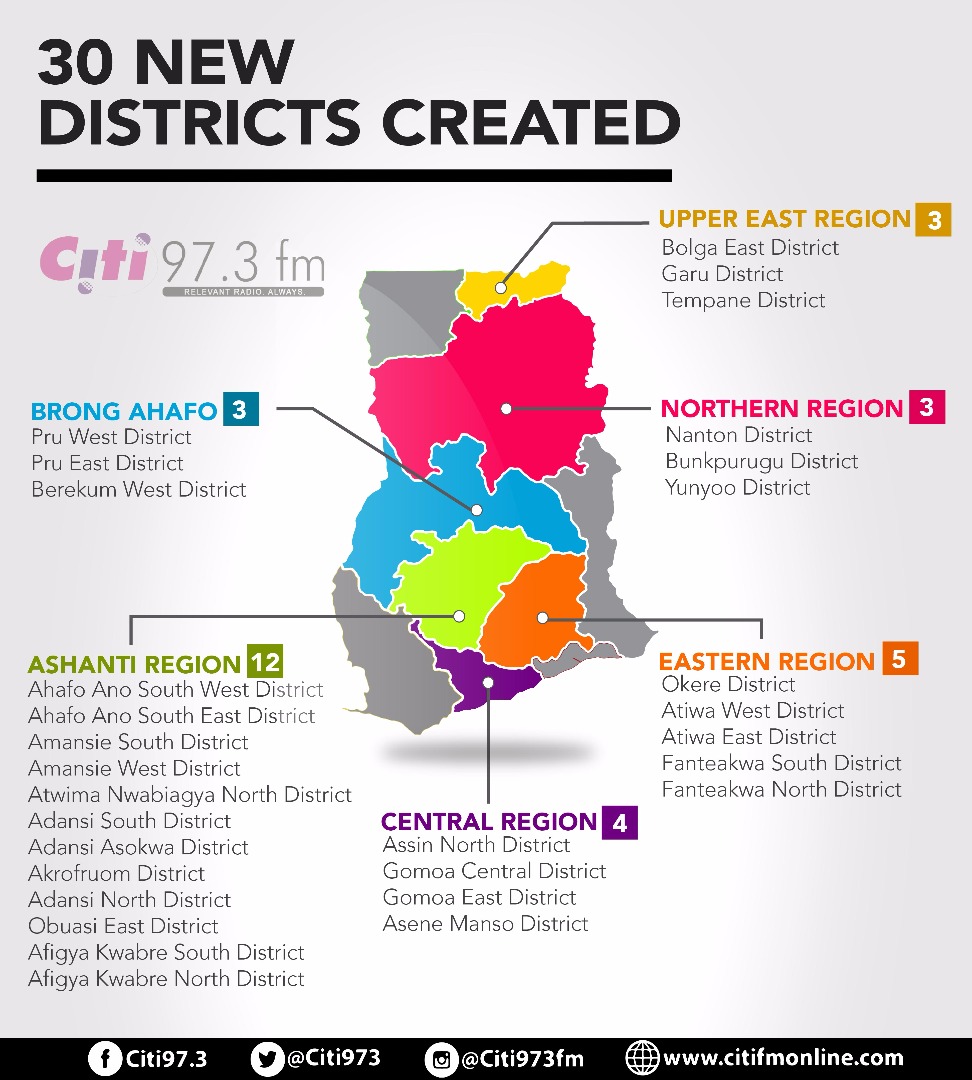 The government is hopeful that the creation of these new districts will deepen Ghana's democratic processes and boost the decentralization system.
Speaking to journalists after presenting the LI, Hajia Alima Mahama, said: "We've decided that we need to deepen our democratic process and decentralization system. There are some districts that have grown. We started district assemblies in 1988, the population of some of the district assemblies have even doubled. And the essence of our local governance system is to ensure that all persons in the district participate in the governance system and feel part of it. So we've decided to increase the number of districts, the districts that are big, divide them into other districts," she added.
–
By: Duke Mensah Opoku & Delali Adogla-Bessa/citifmonline.com/Ghana