Afadjato South District: DCE foots hospital bill of patients in all district's hospitals
Related Articles
The District Chief Executive for the Afadjato South District in the Volta region, James Etornam Flolu has paid the hospital bills of all patients in health facilities across the district to mark his 30th birthday on Tuesday, May 19.
The DCE also distributed some 10,000 nose masks to residents across the district in a bid to curb the spread of the Covid-19 pandemic, while children across the district received assorted food items to mark the celebration.
The gesture according to the DCE is to show appreciation and to inspire the beneficiaries as he marks his birth; adding that, "it is necessary for people in position to extend helping hand to the community from which they come as a form of showing appreciation."
He said, "I am doing this to inspire these patients to life again as I mark my birthday but most importantly, to show them love and appreciation for their support since I assumed office as a young DCE."
He added that, "I am doing this as well as the sharing of nose masks today to ensure that residents within the district protect themselves while visiting public places by wearing the mask in the fight against the Covid-19 pandemic."
At each of the points, children were gathered in small groups where the DCE would share the items and address them on the need to aspire to become notable personalities in the future.
In addressing the children, Mr. Flolu reiterated the importance of education in their development.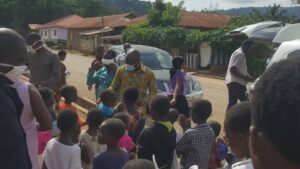 He said, "I know you all here have dreams to become DCEs, MPs, Doctors and lawyers but you can only become big people in the future, if you stick to your books.
I want you to see me as an example because I was once like you. The MPs, President, Lawyers you see around were also children like you in the past but they studied hard to become who they're today; you can also be like them, just study hard," he emphasised.
The Zongo community in the District was not left out as the DCE donated bags of rice and cooking oil in support of Sunday's Ramadan Eid celebrations.
He urged residents to continue to adhere to the Covid-19 protocols as the battle against the pandemic continues.
Source: Starrfm.com.gh/103.5/Faisel Abdul-Iddrisu