AL-SMITH: Nyantakyi may win legal war, but he must leave GFA job. Now.
Related Articles
The radio was low, just enough to serve as background noise while driving, but the corners of the senses could faintly make out the familiar chorus.
"If you truly love me,
Please let me go…"
It was the perfect song for the moment. The previous two hours had been difficult.
On Wednesday evening, I'd joined the thousands of Ghanaians who saw one of three screenings of 'Number 12', the latest work by journalist Anas Aremeyaw Anas.
The 90-minute feature was an exhibition of corruption.
The sophistication ranged from the banally greedy to true sophisticated intentions to thieve. While referees were met in Obuasi street corners and being offered GHS 300 ($63) to fix crucial Ghana Premier league matches, GFA boss Kwesi Nyantakyi was brokering kick-backs in millions of dollars outside the country.
Ah, Nyantakyi.
WHAT WE SAW
The sheer scale of what he did in that video defies belief. But for the purely sporting angle, let's summarize what he did:
➡️ He convinces investors he has met to accept a lucrative sponsorship deal for the Ghana Premier League – which has not had a sponsor for three years.
➡️ The deal is worth $15m for three years, but he wants the investors to work out a cut so they can share a 20%-25% with them, before Ghana Premier League clubs even get their share.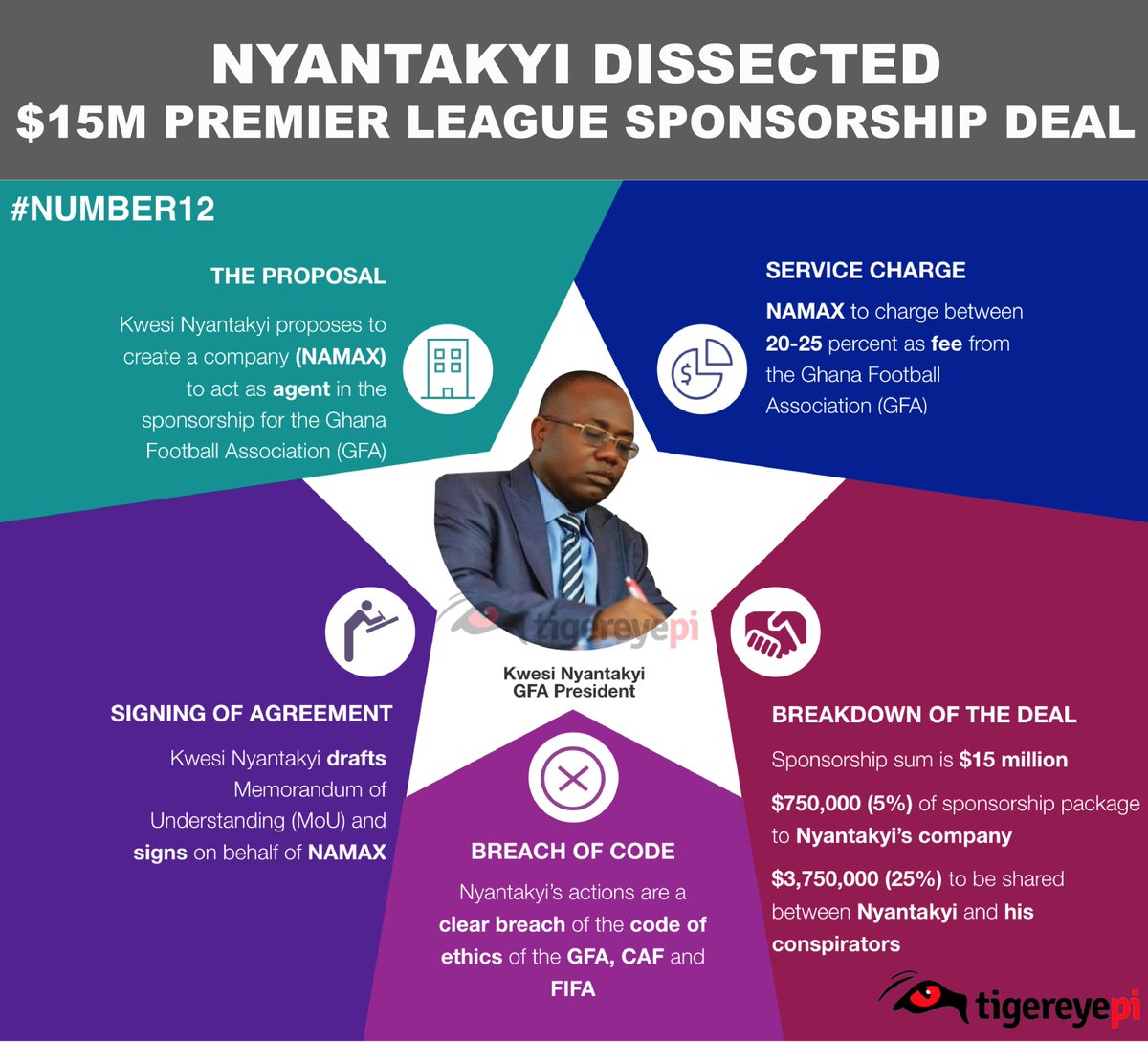 ➡️ He says he can draft a Memorandum of Understanding almost immediately that will seal the deal – and also chips in that he will want to be the local representative of the investor.
➡️ He mentions that he owns a Savings and Loans company that can be used to 'launder' the money once all deals are agreed.
THE BETRAYAL OF HIS OWN PEOPLE
You come away from the video feeling like what this man is shown doing is surely not his first time. It was too smooth, too..rehearsed. Like he has done it before, in which case, will anyone be shocked?
Rumours about double-dealing and undercutting the FA in all manner of agreements of the years have been rife. What Anas has done with Number 12 is to take all our myths and give them life, give them form.
We can debate ethics, entrapment, all that guff another day. Yet, the people in charge of local football are already lining up with accusations. These are the people who've given him three terms in office.
"He has to go, now, because as the face of Ghana football his image is completely negative for us now. Everything he touches will be tainted by this. If I were him I would have resigned by now. What I saw was shocking and a big disgrace to Ghana football," Kudjoe Fianoo, head of the Ghana League Clubs Association, told Joy Sports.
Two weeks ago, when President Akufo Addo first asked the Police CID to interrogate him, Nyantakyi should have stepped aside while the inquiry was on. Now, we're past that.
His very presence at the FA muddies their already dusty reputation. He has to go.
A COLLAPSING FIEFDOM
After 13 years, Nyantakyi has hit a brick wall where ideas are concerned. He doesn't like to admit it, but his attention is on bigger jobs. The forensic care he gave the GFA job in the halcyon days of 2006 – 2010 is long gone.
Filling that vacuum have been willing lieutenants capable of plundering the Ghana football system. And that, as Anas showed, has been done well. It is not even that everyone is buyable, but it is that everyone is available for cheap.
The 48 year old does not have that drive for the local game anymore. He should call it a day.
LEGAL vs MORAL
The Ghana FA boss is, himself, a good lawyer, frm all accounts, and as has been evidenced by the numerous times he's had legal scrapes and wiggled off. The problem is that once they kept piling up, so did the negative perception.
There comes a time when brands, entities and people of sound mind may not want to associate with the FA because there is just too much bad news allied to it. And that is where we are now. 'Number 12' is the number one reason they'd want to stay away.
Yes, his crack team of lawyers may get him out of this mess, but which Ghanaian fans will truly take him seriously? Will his peers at the GFA feel comfortable that he leads them for sponsorship drives?
The FA's core brands, notably the Black Stars, need freshening. Nyantakyi is not the brush it needs; in fact he is the problem.
Morality, as subjective a topic as can be, remains the core tenet of integrity.
We can fully expect that world football governing body, Fifa, will distance itself from him soon and he will lose his Fifa Council seat. It is coming. The Confederation of African Football are not as petty about integrity issues, but even there his role as First Vice President is extremely sensitive. Such negative press is the last thing they need, especially as they want to make a clean break from the rotten era of Issa Hayatou.
For his own long-term political career's sake, and for Ghana football, Nyantakyi must resign as GFA boss.
And, as the song in the car was finishing, a crooning voice begged:
"Time's up, baby,
Let me go,
Time's up"
You know what to do, Kwesi.
**
More on fallout of Number 12:
– The full story: How Nyantakyi 'sold' Ghana for $11m
– Anas #12: Kwesi Nyantakyi top 10 greatest hits, in quotes
– GFA top man Eddie Doku caught taking bribes to push player into Black Stars B
– How Nyantakyi plotted to fleece his own Ghana Premier League of lucrative $15m sponsorship
—
Follow Gary on Twitter @garyalsmith
Source: Ghana/Joy Sports/Gary Al-Smith