BA boss 'won't resign' over flight chaos
Related Articles
BA chief executive Alex Cruz says he will not resign and that flight disruption had nothing to do with cutting costs.
He told the BBC a power surge, had "only lasted a few minutes", but the back-up system had not worked properly.
He said the IT failure was not due to technical staff being outsourced from the UK to India.
Mr Cruz said "I am profusely sorry" to the 75,000 passengers affected across 170 airports in 70 countries.
He said two thirds of passengers will have reached their destination by the end of the day.
There was no evidence of a cyber attack, he added.
"There was a power surge and there was a back-up system, which did not work at that particular point in time. It was restored after a few hours in terms of some hardware changes… we will make sure that it doesn't happen again," Mr Cruz said in his first interview.
A leaked staff email revealed Mr Cruz had told staff not to comment on the system failure. When asked about the email he told the BBC the tone was clear: "Stop moaning and come and help us".
But Mick Rix from the GMB union did not accept Mr Cruz's explanation. He told BBC Radio 4: "Why didn't the back-up kick in? Basically because there's been an absolute brain drain out of the company."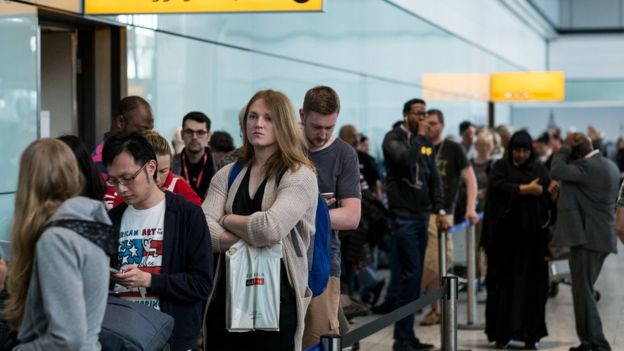 Queues built up on Sunday at Heathrow Terminal 5 as passengers waited to speak to BA staff
The airline is now close to full operational capacity after the problems resulted in mass flight cancellations at Heathrow and Gatwick over the bank holiday weekend.
On Monday, BA said they plan to fly more than 95% of their normal flight schedule.
Questions remain about how a power problem could have had such impact, said the BBC's technology correspondent Rory Cellan-Jones. One theory was that returning systems were unusable as the data had become unsynchronised.
Heathrow advised affected BA passengers not to travel to the airport unless their flights had been rebooked, or were scheduled to take off on Monday.
Passengers on cancelled flights have been told to use the BA website to rebook.
Until now, Mr Cruz had only posted videos on Twitter apologising for what he called a "horrible time for passengers".
BA is liable to reimburse thousands of passengers for refreshments and hotel expenses, and travel industry commentators have suggested the cost to the company – part of Europe's largest airline group IAG – could run into tens of millions of pounds.
Davy analyst Stephen Furlong said the cost to the carrier of cancelling one day of operations was around £30m.
Shares in IAG listed on the Madrid stock exchange ended the day 2.8% lower.
Customers displaced by flight cancellations can claim up to £200 a day for a room (based on two people sharing), £50 for transport between the hotel and airport, and £25 a day per adult for meals and refreshments.
Ian Sanderson, one of the affected passengers who is stuck in transit in London, said he was "incandescent with rage" after being unable to rebook his flight, or speak to a member of staff.
Speaking on Sunday evening, he said: "I've bombarded them with about 100 tweets in the last 24 hours. I know that's annoying but there's nothing else I can do.
"We've tried to call them on the numbers they give and all we've got is the same recorded message which then cuts off at the end."
EU flight delay rights
If your flight departed from within the European Union or was with a European airline, you might have rights under EU law to claim if the delay or cancellation was within the airline's control.
Short-haul flights: 250 euros for delays of more than three hours
Medium-haul flights: 400 euros for delays of more than three hours
Long-haul flights: 300 euros for delays of between three and four hours; and 600 euros for delays of more than four hours
If your flight's delayed for two or more hours the airline must offer food and drink, access to phone calls and emails, and accommodation if you're delayed overnight – including transfers between the airport and the hotel.
Source: BBC