Two Canadian marijuana growers are hoping to get high on profit after agreeing to merge and create a $6bn (£4.2bn) company.
Aurora Cannabis is buying smaller pot producer CanniMed Therapeutics after a far-from-mellow takeover battle between the firms.
Canada plans to legalise recreational marijuana before July.
And the dope developers are betting on the merger putting them in a strong position when those changes come in.
The deal is the largest so far in Canada's fast-growing cannabis sector, and creates the world's most valuable marijuana company.
And analysts say that by paying about $850m for CanniMed, Aurora is able to get further into the market for using cannabis in medical products.
Illegal market up in smoke
Last year, Canada's Prime Minister Justin Trudeau vowed to "legalise, regulate, and restrict access to marijuana" in order to reduce access to young people and to displace the illegal market.
The country's Parliamentary Budget Office has estimated that this year an estimated 4.6m people aged 15 and over would use cannabis at least once.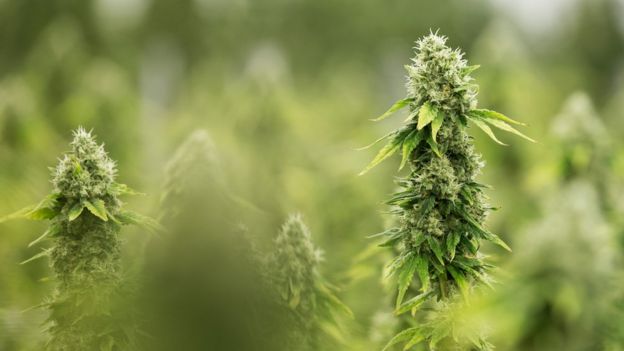 The same estimate projects 655 metric tons of cannabis will be consumed this year.
Canada will be the second country to legalise recreational marijuana after Uruguay.
Tightly packed industry
The industry is going through a period of consolidation as legalisation nears.
A recent report from business consultancy EY found that 87% of executives from licensed producers expect mergers and acquisitions as the recreational market grows.
There are many large players south of the border in the US as well, but they potentially face a tighter legal regime.
In the US, nine states have legalised marijuana for recreational use, but it remains illegal at the federal level, with Attorney-General Jeff Sessions threatening to crack down on liberalisation.
 Source: BBC