A strong earthquake has struck central Mexico, killing at least 44 people and toppling dozens of buildings in the capital, Mexico City, officials say.
The capital's airport has suspended operations after the 7.1 magnitude quake, and buildings across the city have been evacuated.
People were feared trapped under the rubble of collapsed buildings as rescue teams rushed to the hardest-hit areas.
Earlier this month, a strong 8.1 magnitude tremor left at least 90 dead.
The epicentre of the quake was next to Atencingo in Puebla state, some 120km (75 miles) from Mexico City, with a depth of 51km, the US Geological Survey said.
At least 42 people were killed in Morelos state alone, south of the capital, the governor said on Twitter. Two other people died in Mexico state.
The tremor happened as an earthquake drill was being held in Mexico City, on the 32nd anniversary of a quake that killed up to 10,000 people.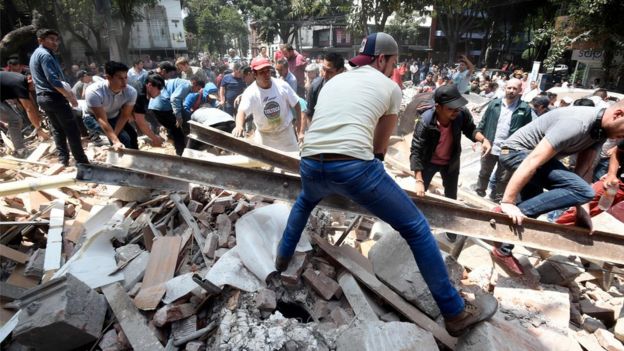 This building collapsed in Mexico City after the earthquake​
At least 27 buildings collapsed in the capital, President Enrique Peña Nieto said on Twitter (in Spanish).
He urged people to avoid the streets so emergency services could easily reach the hardest-hit areas.
US President Donald Trump tweeted: "God bless the people of Mexico City. We are with you and will be there for you."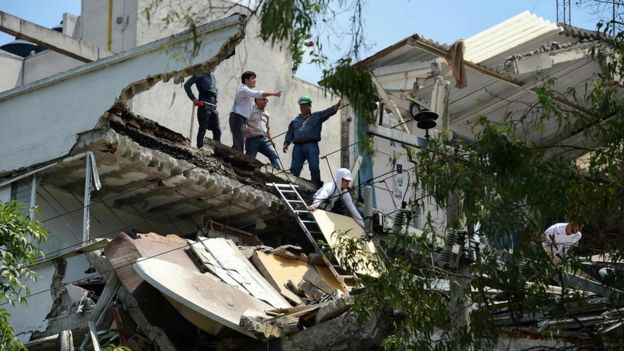 The extent of the damage caused by the quake was still unclear