The pair will face each other in a run-off vote on 7 May after taking the top places in Sunday's first round, with Mr Macron the current favourite to win.
Mr Hollande said a far-right victory would endanger the country.
He said: "What is at stake is France's make-up, its unity, its membership of Europe and its place in the world."
His brief TV address on Monday reflected a move by much of France's mainstream to line up behind Mr Macron to try to stave off Ms Le Pen.
Earlier, defeated candidates, the Republicans' François Fillon and Socialist Benoît Hamon, both urged supporters to vote for Mr Macron.
Ms Le Pen quickly renewed her attacks on Mr Macron on Monday, calling him a "weakling" for his anti-terrorism policies.
The victory of Ms Le Pen and Mr Macron meant that, for the first time in six decades, neither of France's main left-wing or right-wing parties had a candidate remaining in the election.
The pair will hold a TV debate on 3 May, aides to Mr Macron said on Monday.
President Hollande said the far-right would threaten the rupture of Europe, "profoundly divide France" and "faced with such a risk, I will vote for Emmanuel Macron".
He said his former economy minister would "defend the values which will bring French people together at such an important moment, a serious time for Europe, the world and France".
But the BBC's Hugh Schofield in Paris says the support of Mr Hollande will be a mixed blessing for Mr Macron, as it will serve as a reminder to the French people that he was previously a close adviser and minister of the unpopular head of state.
The polling average line looks at the five most recent national polls and takes the median value, ie, the value between the two figures that are higher and two figures that are lower.
When he conceded defeat, the conservative Mr Fillon, who was third on Sunday with 19.9%, said there was "no other choice than voting against the far-right".
However, the position of the fourth-placed candidate, hard-left Jean-Luc Mélenchon, who took a creditable 19.6%, was still unclear.
He pointedly refused to back Mr Macron, whose pro-EU, pro-business and pro-globalisation stance is diametrically opposed to his anti-austerity, eurosceptic approach.
Steeve Briois, vice-president of Ms Le Pen's National Front (FN), said it was hoping to win over Mr Mélenchon's supporters, who he called "outside the system".
"The voters who voted for Mr Mélenchon are angry voters. They can be in agreement with us," Mr Briois told the Associated Press.
However, protesters who burned cars at the Place de la Bastille and Place de la Republique in Paris overnight were chanting "No Marine and No Macron!"
The latest opinion poll, by Opinionway, suggested a second-round victory for Mr Macron by 61% to 39%.
But there were warnings from Mr Macron's own party following a glitzy victory celebration at a Paris bistro that the job was not yet done.
"We need to be humble. The election hasn't been won and we need to bring people together to win," Richard Ferrand, secretary-general of Mr Macron's En Marche movement, said.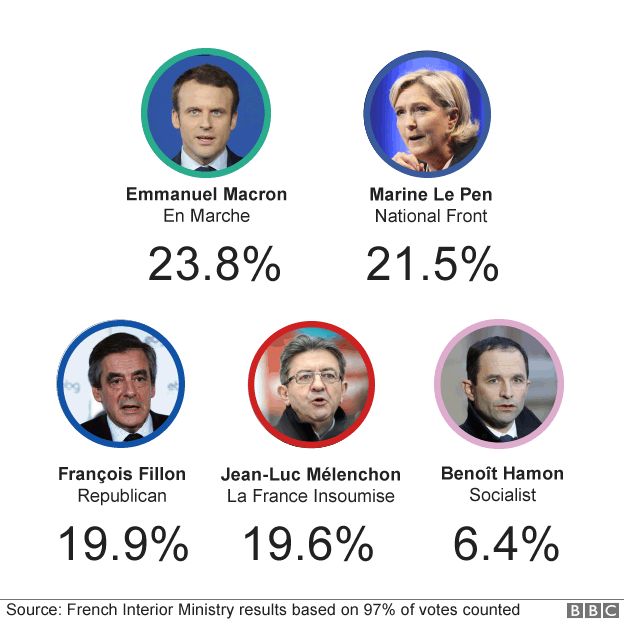 The National Front said that while Mr Macron's supporters were recovering "from their showbiz evening", Ms Le Pen was out canvassing in a market in a small northern town.
She quickly attacked her rival: "Mr Macron is a weakling. Here we have a candidate who doesn't have a programme to protect the French people from the threat posed by Islamist terrorism."
She added: "He is a hysterical, radical 'Europeanist'. He is for total open borders. He says there is no such thing as French culture."
What does Mr Macron stand for?
At 39, Mr Macron could become the youngest president France has ever had – and the first president in the Fifth Republic who does not belong to a major party.
He secured 8.4 million votes – more than any other candidate – in the first round.
Mr Macron was Mr Hollande's economy minister but quit to create En Marche.
In a victory speech to supporters, Mr Macron said: "I hope that in a fortnight I will become your president. I want to become the president of all the people of France – the president of the patriots in the face of the threat from the nationalists."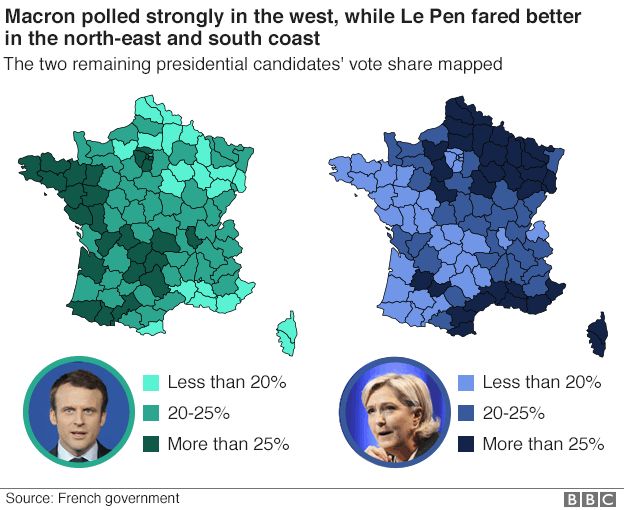 What about Ms Le Pen?
Ms Le Pen, 48, took over the FN leadership from her father in January 2011 and helped her party secure big gains in regional elections.
She won 7.6 million votes on Sunday – the strongest ever result for a FN candidate, and 2.8 million more than her father, Jean-Marie Le Pen, won for the FN in 2002.
Source: BBC