Housing Ministry budget inadequate for debt, others – MPs
Related Articles
Some Members of Parliament are worried about the financial constraints the Works and Housing Ministry may face in 2018.
This is due to the budgetary allocation for the Ministry in the 2018 budget, which was noted to be less than half of the funds the Ministry actually requires.
While the Ministry owes contractors to the tune of GHc 1 billion, the entire allocation for the ministry, which is largely concerned with infrastructure, is GHc 91 million.
The Chairman of the Works and Housing Committee of Parliament, Nana Amoako, captured the sentiments of his committee's members and other MPs in the report of the committee on the floor of Parliament on Tuesday.
"The Ministry has been allocated a total sum GHc 91, 481,044, whilst the actual requirement for the effective implementation of its programme is estimated to be at about GHc 225 million."
"Though the ministry was able to honour part of its indebtedness to contractors, it still has GHc 1, 174,220,650.59 outstanding as at 31st October, 2017. This means the ministry's 2018 total allocation of GHc 91 million will not be able to settle this huge indebtedness," the MP noted.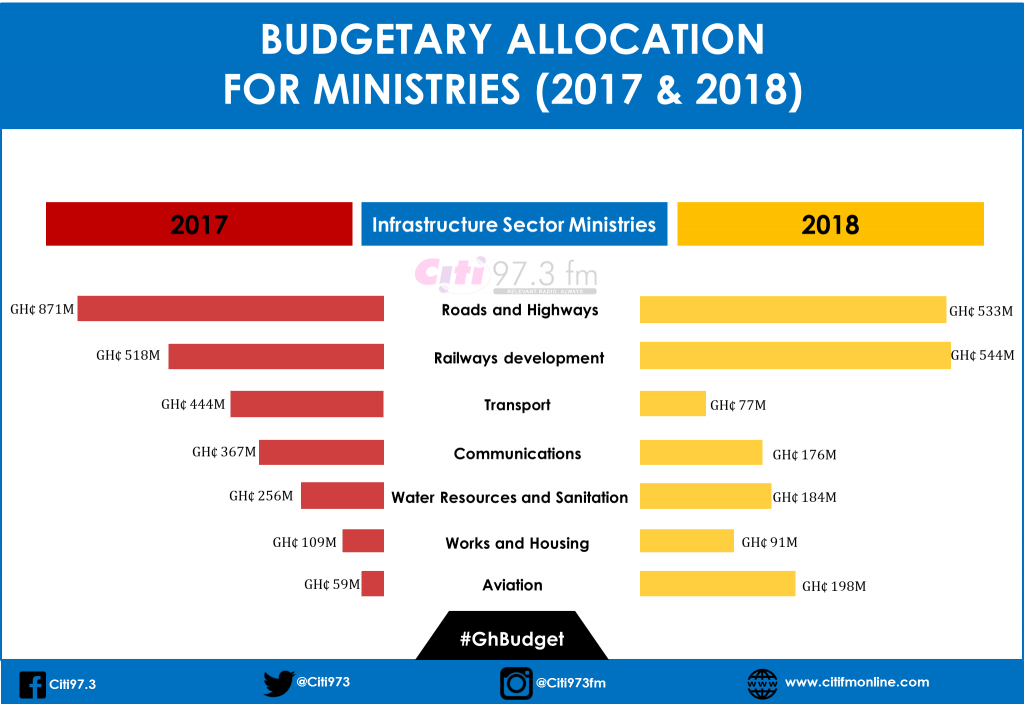 The ministry, headed by Samuel Atta-Akyea, had its budget slashed from Ghc 109 million to the current Ghc 91 million.
The Ministry has as its main functions the formulation and coordination of policies and programmes for the development of the country's infrastructure requirements in respect of works and housing.
It previously had to concern itself with water supply and sanitation, before a separate Ministry for Water Resources and Sanitation was created by the Akufo-Addo administration.
The Ministry coordinates and supervises, by way of monitoring and evaluation of the performance of both public and private agencies responding to and participating in the realization of the policy objectives established for the sector.
But one of the major headaches of the Ministry will be to ease the drainage problems in urban areas which is greatly affecting housing.
Well aware of the financial constraints, the sector minister, Mr. Atta-Akyea, noted to Parliament in November that government has put together a road-map to provide permanent infrastructure solution to the perennial flooding in Accra, which would be involved in seeking external help.
He said the capital expenditure for the provision of the drainage and sewage to fix the recurring floods were beyond the national budget.
But beyond this, the World Bank in a recent report estimated that, to address Ghana's huge infrastructure deficit, a sustained spending of at least $1.5bn per annum over the next decade would be needed to plug the infrastructure gap.
In general, the allocation to public infrastructure declined in the 2018 budget to GHc 1.804 million in 2018, from GHc 2.624 million in 2017.
–
By: Duke Mensah Opoku & Delali Adogla-Bessa/citifmonline.com/Ghana