Four children and a teacher have been killed in Brazil after a security guard threw flammable liquid on them and set them on fire, officials say.
The man also set himself alight at the childcare centre in the remote town of Janauba in Minas Gerais state.
Video footage showed chaotic scenes outside, as parents cried and panicked as the news broke.
Twenty-five people, mostly children aged four and five, are being treated for burns in local hospitals.
Some of the patients may still need to be airlifted to a specialised burns unit in the state capital, Belo Horizonte.
The mother of one of the victims, four-year-old Juan Miguel Soares Silva, told O Globo newspaper that she had been considering enrolling him in another nursery prior to the attack.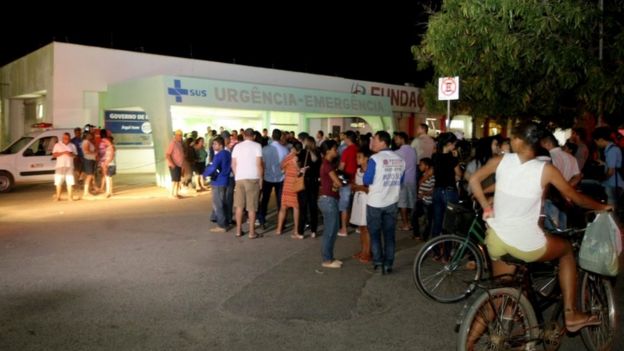 "We are about to move to a different neighbourhood," Jane Kelly da Silva Soares said.
"I woke up early to drop him at the nursery. When I saw him again he was already dead in hospital."
'Security guard sacked'
The security guard has been identified by police as Damiao Soares dos Santos, 50. He died in hospital of his wounds.
The reasons for the attack are still being investigated.
Local media has reported that he was dismissed after returning from annual leave last month with an alleged health condition.
He went to the Gente Inocente childcare centre to hand in his medical certificate and then started the fire, O Globo newspaper reported.
President Michel Temer tweeted: "I'm very sorry about this tragedy involving children in Janauba. I want to express my sympathy to the families."
"This must be a very, very painful loss," he added.
The mayor of Janauba has declared seven days of mourning.
source:  myjoyonline.com