N Korea in new 'failed' missile lauch
Related Articles
North Korea has test-fired another ballistic missile, South Korean and US military officials say.
The missile exploded shortly after take-off, they said – the second failed launch in the past fortnight.
US President Donald Trump accused North Korea of showing "disrespect" towards China and its president.
The missile was fired from a site in South Pyeongan province, north of Pyongyang, in the early hours of Saturday local time, South Korea said.
Mr Trump tweeted: "North Korea disrespected the wishes of China & its highly respected President when it launched, though unsuccessfully, a missile today. Bad!"
Mr Trump recently hosted Chinese President Xi Jinping and praised his Chinese counterpart for "trying very hard" on North Korea.
The failed launch came just hours after the United Nations Security Council discussed North Korea's missile programme.
Mr Trump's Secretary of State Rex Tillerson called for a tougher international approach to the isolated communist state – but also signalled that the US might be prepared to negotiate with North Korean leader Kim Jong-un.
Tensions in the region have increased lately, with both North and South Korea conducting military exercises.
North Korea is believed to be continuing efforts to miniaturise nuclear warheads and fit them on long-range missiles capable of reaching the US.
After Saturday's failed launch, the Japanese government condemned the test and said it had lodged a strong protest with North Korea through its diplomatic channels.
Tillerson's warning
"North Korea fired an unidentified missile from a site in the vicinity of Bukchang in Pyeongannam-do (South Pyeongan Province) early this morning," the South Korean Joint Chiefs of Staff (JSC) said in a statement, Yonhap reports.
It added that the missile apparently exploded, just seconds after the launch.
Meanwhile, Commander Dave Benham, a spokesman for US Pacific Command, said the "launch occurred near the Pukchang airfield (north of Pyongyang)".
He added that the missile did not leave North Korean territory.
US officials told Reuters that they believed the missile was a medium-range type known as KN-17.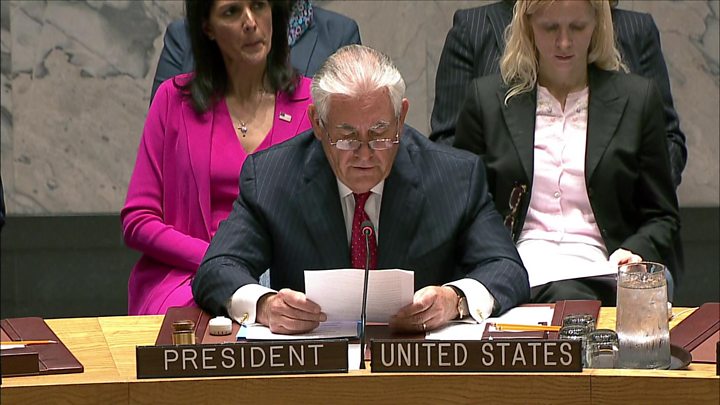 The launch occurred a matter of hours after Mr Tillerson called on the rest of the world to help force North Korea to give up its nuclear ambitions.
Mr Tillerson warned of "catastrophic consequences" if the Council did not act, saying it was "likely only a matter of time before North Korea develops the capability to strike the US mainland".
The US would use military force if necessary, he said.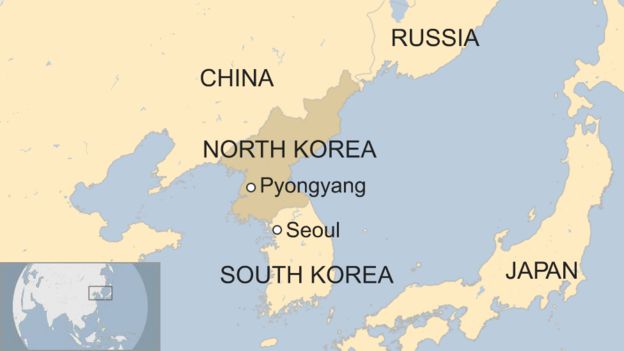 Mr Tillerson accused Council members of not fully enforcing existing sanctions against the North, and called on China in particular to leverage its trade links as influence.
But the Chinese Foreign Minister, Wang Yi, said the key to solving the problem did not lie with his country.
What are the sanctions on North Korea?
UN sanctions include a ban on selling arms and fuel to North Korea, as well as a host of items that could be used for weapons-making.
Also on the list are luxury goods including pearl jewellery and snowmobiles worth $2,000 (£1,540) or more.
Since last year, all cargo entering or leaving North Korea must also be inspected.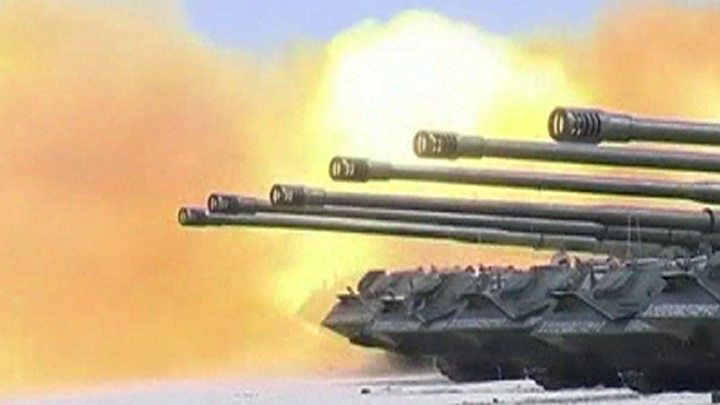 But a recent UN study found that fragments from a North Korean missile test included electronics that had been obtained either from or via Chinese enterprises.
The US has separate, stricter sanctions including a blanket ban on trade and a blacklist of anyone dealing with North Korea.
How else has tension risen?
Among other developments in recent weeks:
North Korea carried out an earlier failed missile launch and held a massive military parade in an apparent show of strength
The US deployed a group of warships and a submarine to the region
Pyongyang reacted angrily, threatening a "super-mighty pre-emptive strike"
The US began installing a controversial $1bn (£775m) anti-missile system system called Thaad in South Korea – which Mr Trump said South Korea should pay for. Seoul said on Friday there was "no change" in its position that the US pays for it
Mr Tillerson and US Vice President Mike Pence visited South Korea, reiterating that "all options were on the table" in dealing with the North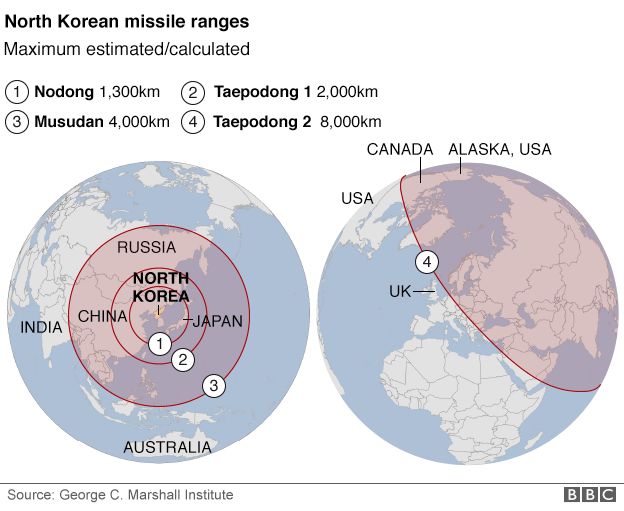 Source: BBC