PAC's 'soft' sanctions over auction 'rot' at MoFA, GHS rejected
Related Articles
Parliament has rejected the Public Accounts Committee's (PAC) recommendations with respect to the disposal of some government vehicles at the Ministry of Food and Agriculture, and the Ghana Health Service.
Speaking in Parliament on Thursday, the First Deputy Speaker, Joe Osei-Owusu, was of the view that, some officials who were complicit in the improper disposal of the said vehicles were not given appropriate sanctions.
The Committee has been asked to go back, and re-work the report with stiffer sanctions and recommendations.
In April 2017, the two institutions together with the auctioneers who disposed off the vehicles, some for as low as GHc 1,000, faced the Committee to explain the infractions as captured in the Auditor General's report.
"Some breaches of the law have occurred. Recommendations must be made in respect of those. Some public officials were negligent or non-compliant of the law. That is why I am directing that the report comes back to Committee. All that is outstanding, the Committee should [address] and report back."
"I direct that the report goes back to the Committee for other recommendations… the report may have made the observation, but the conclusions are not sufficient," Mr. Osei-Owusu said.
Background
In April 2017, the Public Accounts Committee slammed officials of the MoFA and an auctioneer to the ministry for contravening the auction laws when 24 vehicles were sold to staff of the ministry at ridiculously low prices.
The auctioneer, Alex Adjei, side-stepped all the laws governing the proper disposal of government vehicles and disposed off the vehicles, mostly double-cabin pickups, to the staff of the ministry and pocketed GHc33,203 as his 7% commission on the sale of the vehicles.
Some of the vehicles were auctioned for GHc1,000 each.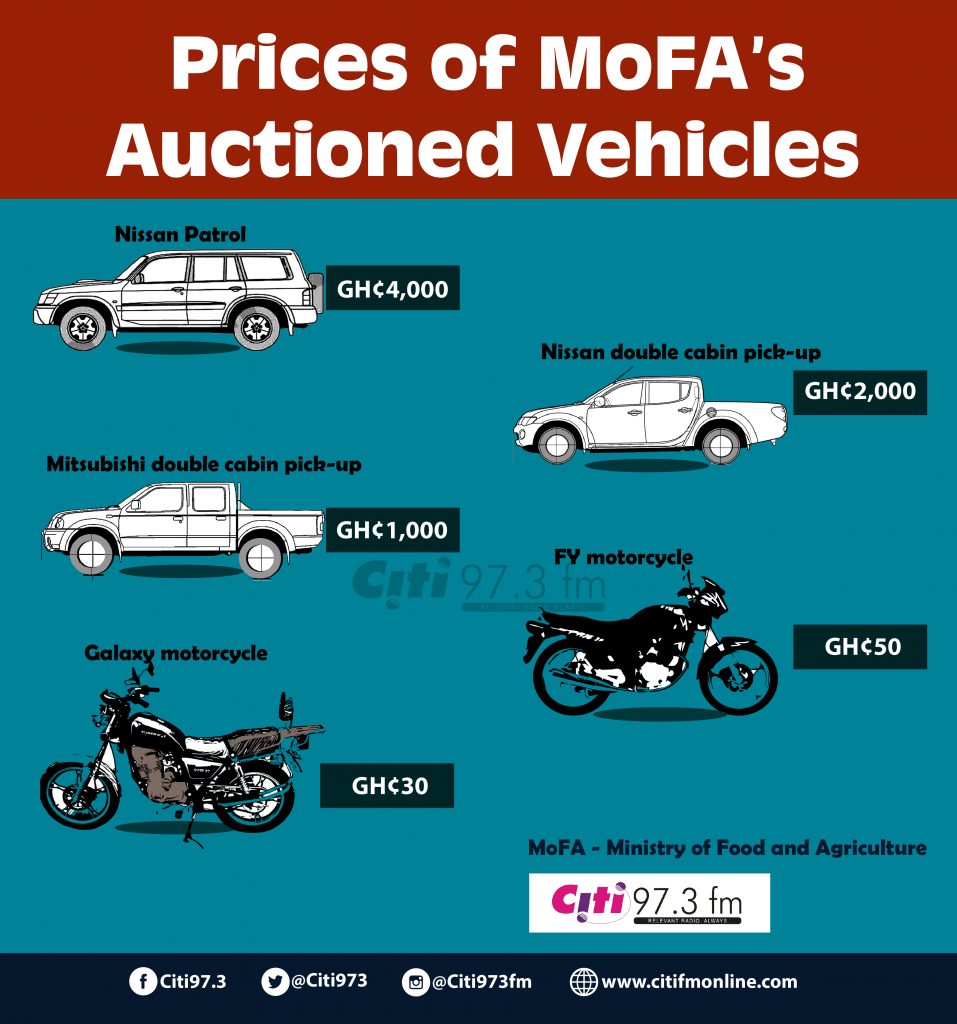 PAC also indicted the Ghana Health Service for failing to pay more than GH¢61,000 from the auction of nine vehicles into a non-tax revenue account since 2014, as required by the Financial Administration Act.
The said amount was reportedly hurriedly paid into the account days to the sitting and subsequent indictment.
PAC had served notice to the GHS to appear before it in respect of the disposal of government vehicles captured in the Performance Audit Report of the Auditor-General for 2015.
According to the regulations on auctions, proceeds from auction sales must be deposited within 24 hours.
–
By: Duke Mensah Opoku/citifmonline.com/Ghana