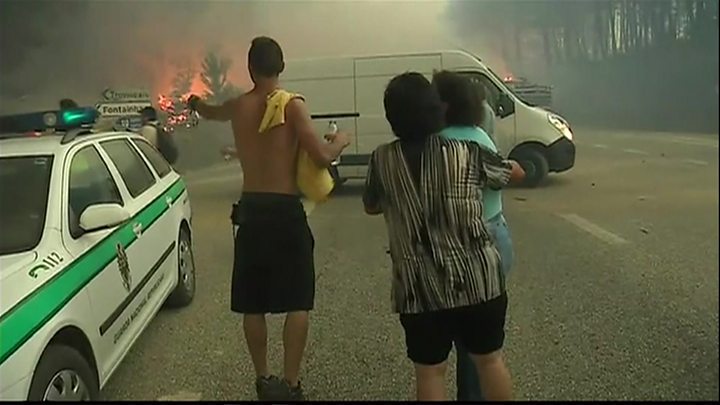 Portugal has declared three days of mourning for the 62 victims of one of the country's deadliest forest fires.
Four children are among the victims, many of whom were found dead inside their cars as they tried to flee the central forested region of Pedrógão Grande.
Hundreds of firefighters are continuing to tackle the blaze on several fronts.
Prime Minister Antonio Costa called it "the greatest tragedy we have seen in recent years in terms of forest fires".
He said it was thought to have been sparked by a lightning strike.
In pictures: Portugal forest fire
Four firefighters are among the 54 people injured in the fire, which is raging in several parts of a mountainous area some 200km north-east of the capital Lisbon.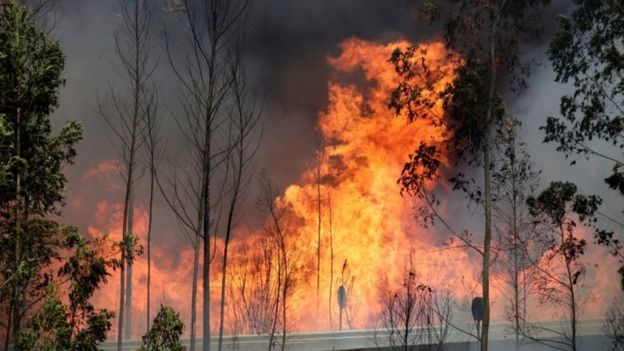 There are fears the death toll could rise, as a number of people are still missing. The period of national mourning ends on Tuesday.
Bodies found inside cars
Emergency service workers were battling 156 fires across the country on Sunday, Prime Minister Costa said, adding that most of the victims had died in just one of them.
Secretary of State for the Interior Jorge Gomes said that most had died from smoke inhalation and burns, while two were killed in a road accident related to the fires.
Thirty bodies were found inside cars, with another 17 next to the vehicles, on one road leading on to the IC8 motorway.
Another 11 died in a village next to the motorway.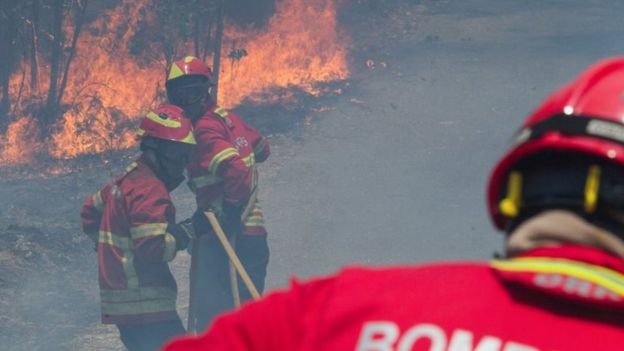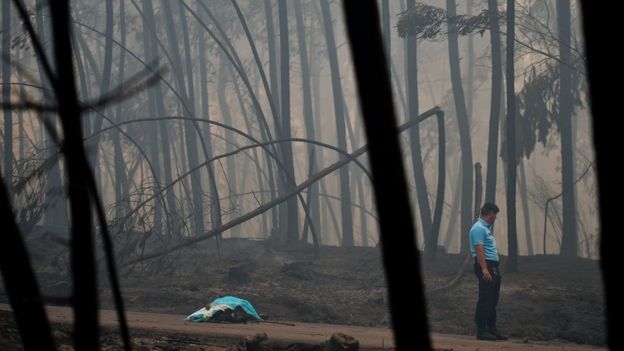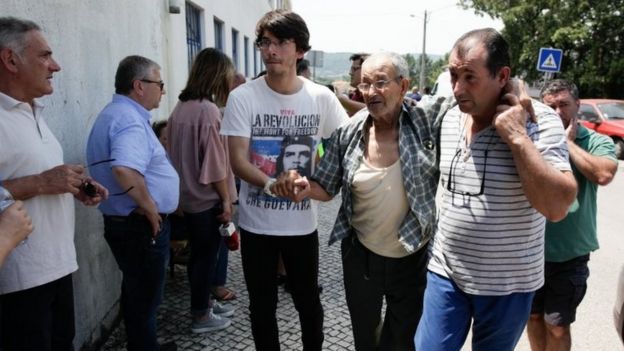 According to the prime minister, just 11 fires are still active but he said the authorities were "particularly worried about two of them".
They have sent two army battalions to help the emergency services.
France has offered three firefighting planes, while Spain has already sent two water-bombing aircraft to help tackle the fires. The European Union has also promised to provide firefighting aircraft.
Dozens of people who fled their homes have been taken in by residents of the nearby municipality of Ansiao.
Pope Francis, who visited Portugal last month, mentioned the victims in his weekly address: "I express my closeness to the beloved people of Portugal following the devastating fire."
French President Emmanuel Macron tweeted: "Solidarity with Portugal, hit by terrible fires. Our thoughts are with victims. France makes its aid available to Portugal."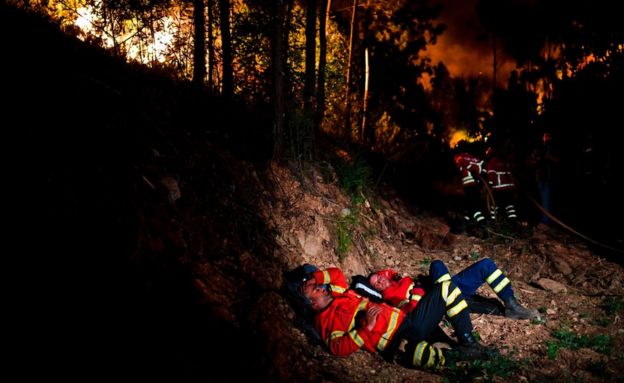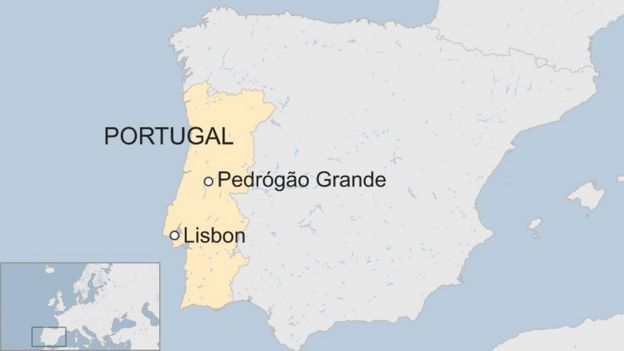 The fires began on Saturday during an intense heatwave and rainless thunderstorms, with temperatures of more than 40C (104F) in some areas. Police say lightning striking a tree may have caused the fire.
"This is a region that has had fires because of its forests, but we cannot remember a tragedy of these proportions," Valdemar Alves, the mayor of Pedrógão Grande, was quoted as saying by the Associated Press agency.
"I am completely stunned by the number of deaths."
---
What happens next? Alison Roberts, BBC News, Lisbon
We have had large-scale fires before over the past couple of decades – this year is not unusual in that respect – but it is certainly unusual to have so many fatalities in one place. Portuguese officials are visibly shocked.
There were very particular circumstances with the lightning strikes here – this fire started with a dry lightning strike. There has been rainfall elsewhere but there was no rain there, and this is a heavily-forested area.
Getting it under control depends not only on temperatures, which do seem as though they will be high, but on the wind above all. It is very much in the hands of Mother Nature.
Source :BBC