SA postpones Zuma state of nation speech
Related Articles
South African President Jacob Zuma's state of the nation speech in parliament has been postponed, as pressure grows on him to resign.
Parliament speaker Baleka Mbete made the announcement, without giving a new date for the address that had been scheduled for Thursday.
The ruling ANC earlier called a meeting of the party's top body for Wednesday to decide the president's future.
Mr Zuma, 75, has resisted calls to quit over corruption allegations.
He was replaced as party leader by his deputy, Cyril Ramaphosa, 65, in December. He is now the front-runner to succeed him as president.
Earlier on Tuesday, the Nelson Mandela Foundation urged Mr Zuma to step down.
South Africa had seen "systematic looting" under Mr Zuma's rule, and he "must go sooner rather than later", the foundation said in a statement.
How did the parliament speaker explain her decision?
In a statement, Ms Mbete said recent "calls for disruption" of a parliament meeting on Thursday "caused us great concern".
Therefore the decision had been taken, she said, to "create room for establishing a much more conducive political atmosphere in parliament".
She said that "with this in mind", Mr Zuma was approached about postponing the address, but "when we met the president, we then learnt that he was already writing to parliament to ask for the postponement".
South Africa's main opposition parties, the Democratic Alliance (DA) and the Economic Freedom Fighters (EFF), had been pushing for the postponement of Mr Zuma's speech.
They both welcomed the Tuesday's announcement.
---
Is Zuma's time almost up?
Analysis by Lebo Diseko, BBC News, Johannesburg
It is unprecedented for the state of the nation address to be postponed.
Making the announcement, the speaker of the parliament cited concerns over disruption. This was in reference to fears of possible disruption by the opposition if Mr Zuma were to give the address. And as the sitting president, he is supposed to.
The EFF had called for a postponement until after a no-confidence vote scheduled for later this month.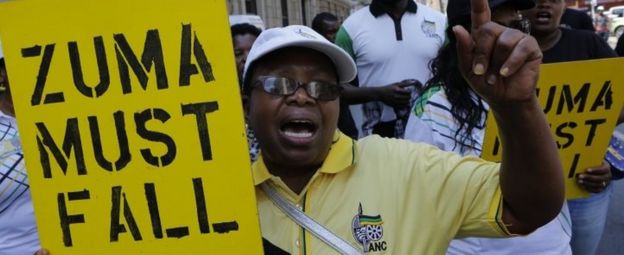 ANC members held a rally in Johannesburg, calling for President Zuma to resign 
All of this is happening against the backdrop of almost frenzied speculation about Mr Zuma's future.
And the one thing that has not been cancelled is Wednesday's meeting of the only African National Congress (ANC) body with the power to remove him.
If reports that the ANC is close to removing the president are true, him giving the address would have been even more awkward.
Either way this latest development has done nothing to dampen speculation in South Africa that Mr Zuma's time as president is almost up.
What is the ANC position on the issue?
On Monday, senior ANC officials held an emergency meeting in the main city, Johannesburg, to discuss his future.
A "dominant view" emerged from the meeting, but it "wasn't the only view", ANC deputy secretary-general Jessie Duarte said at a media briefing.
She refused to go into details, saying the party's National Executive Committee (NEC) will make a final decision on Mr Zuma's future on Wednesday.
If the committee decides that he should step down, it would be very hard for him to resist. This is because the president will not have a majority in parliament without the ANC's support.
Mr Zuma, who spent time in prison for his part in the fight against apartheid, met the ANC's top six on Sunday. They are said to have failed to convince him to stand aside.
Other unconfirmed reports from Sunday's meeting say that Mr Zuma asked for protection from prosecution for himself and his family.
Why is there a push to remove him?
Mr Zuma's presidency has been overshadowed by allegations of corruption.
In recent years his links to the wealthy India-born Gupta family, who are alleged to have influenced the government through their relationship with Mr Zuma, have caused his popularity to plummet. In South Africa, it has become known as "state capture".
Both Mr Zuma and the Guptas deny the allegations.
Then there is also the country's struggling economy, with the unemployment rate rising to about 28%.
As a result, many in the ANC fear his presidency has become toxic – and is hurting the party's standing.
That appeared to be borne out at the 2016 local elections, when the ANC lost ground to the opposition Democratic Alliance (DA) and Economic Freedom Fighters (EFF).
With a general election set for 2019, the ANC will be keen to distance itself from any more negative press – and therefore it is perhaps not surprising that Mr Ramaphosa was elected the party leader on an anti-corruption platform.
However, Mr Zuma still has his supporters within the ANC – including at least two of the top six – so nothing is definite.
On Monday, there were scuffles out the ANC headquarters between small groups of pro- and anti-Zuma supporters.
Source: BBC