At least 39 people have been killed and more than 70 injured in a fire at a hospital in South Korea.
The blaze is thought to have started in the emergency room at Sejong Hospital in the south-eastern city of Miryang.
About 200 patients were inside the building and an adjoining nursing home at the time.
It is South Korea's deadliest fire in almost a decade and the death toll is expected to rise with several of the injured in critical condition.
Firefighters said the victims appeared to have died from smoke inhalation. Hospital medical staff, including a doctor and a nurse, are among the victims.
Authorities have given varying death tolls, with fire officials confirming 39 victims to the BBC, but police announcing 41 dead.
Miryang is about 270km (168 miles) south-east of the capital, Seoul.
The hospital specialised in caring for elderly people with long-term needs, as well as other patients, reported the daily JoongAng Ilbo.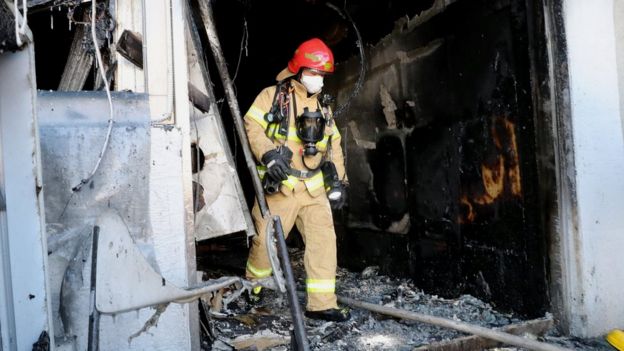 The fire is South Korea's deadliest in a decade
The paper quoted a surviving patient, Jang Yeong-jae, as saying that he was on the second floor when nurses screamed "Fire!" in the hallway and urged people to evacuate.
'Falling over and screaming'
"But when I opened the exit door, the whole stairway was filled with dark smoke and I couldn't see a thing," he said.
"Everybody was running around in panic, falling over and screaming as smoke filled the rooms."
Mr Jang said he ripped open window screens and escaped down a ladder put up by firefighters.
"There were so many elderly patients on other floors… I wonder if they escaped safely," Mr Jang's wife was quoted as saying.
Fire chief Choi Man-woo told reporters the cause of the fire was not yet known.
The hospital building did not have any fire sprinklers installed, local media said.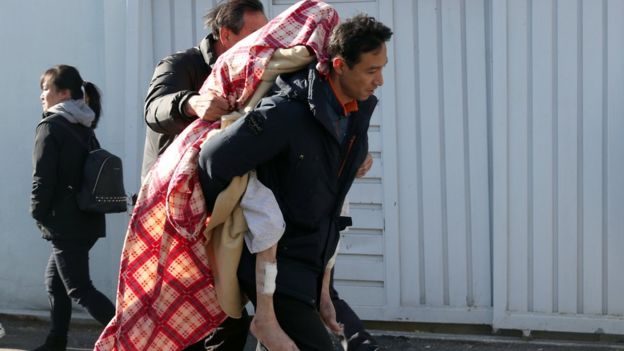 Scores of patients were inside the building and a neighbouring nursing home 
Under current laws, the building was not required to have fire sprinklers, but they were in the process of being fitted in the adjoining nursing home.
A new law that is due to come into force on 30 June will make sprinklers compulsory for nursing homes.
Mr Choi said the fire started around 07:30 local time (22:30 GMT on Thursday) and was put out in about three hours.
Ninety-four patients from the adjacent nursing home were safely evacuated.
South Korean President Moon Jae-in arranged an emergency meeting to discuss ways of dealing with the fire.
Senior officials from both governing and opposition parties travelled to Miryang to offer their condolences and call for a thorough investigation into what caused the tragedy.
"We hope that all-out efforts are made to prevent additional victims," Kim Hyun, the spokeswoman of the ruling Democratic Party, was reported as saying by Yonhap news agency.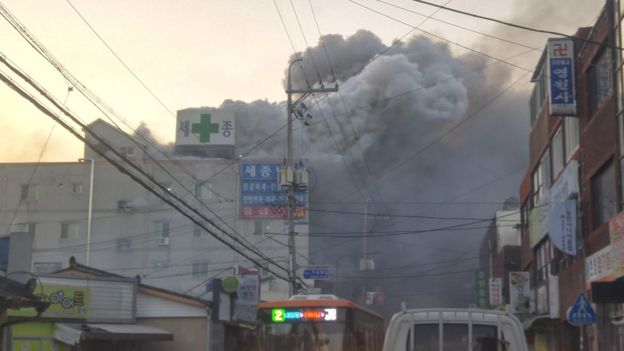 It is not known what caused the fire 
The hospital has been operating since 2008. The nursing home and hospital between them have about 200 beds.
About 35 medical staff work at the hospital, according to provincial officials.
The fire comes just a month after 29 people in the South Korean city of Jecheonwere killed in a blaze at a public gym.