Tafimador mothers recall their children from cities after getting borehole
Related Articles
Tafimador -Konkomba Kope is a farming community in Afadzato South District of the Volta Region.
Residents in the community are migrant Konkomba farmers from Saboba in the Northern region of Ghana.
They settled on the farmland in 1996. However, decades of chronic water challenges in the area have stressed these settlers with ripple debilitating effect on health and education of children, Women and the local economy. Residents became more impoverished as a result of the acute water shortage.
"We settled here from Saboba in 1996 and since we have suffered from scarcity. From 1996 this President will come and campaign that they will give us water but we couldn't get water. When it comes to dry season we go and dig deep hole for the woman, they will go and sit there for long just to get small water home".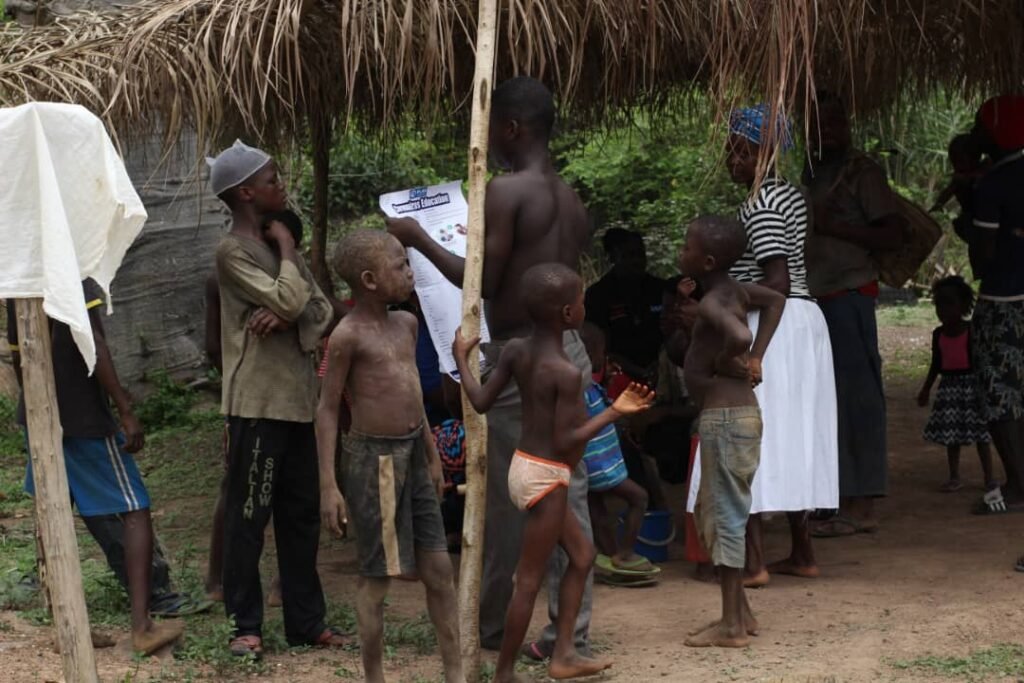 The severe water scarcity forced many parents to migrate their children of school-going age to stay with people in urban areas some of whom were forced into child labour.
"Because of the water scarcity in this village, we send our children to stay with people in urban areas around us like Have and Hohoe to go and stay with them because of water so that they can go to school," a resident told Starr News.
A mechanized borehole recently constructed for the community by Plan International Ghana with funding from Coca Cola Company Limited has quenched the thirst for safe drinking water of the peasant farmers.
A visit to the community by Starr News observed that many parents had begun recalling their children from the urban areas to the village due to the provision of the safe drinking water.
"Now that we have water, we have withdrawn all our children back to the village. Now we have water the Children can bath and go to school in the next village which is 2km walking distance from here. In the next ten years, we will get graduates from this village. At first, we spent all our incomes treating our families of waterborne diseases because of the contaminated water that we were drinking," Nsandow Timothy an Opinion Leader told Starr News.
Women in Konkomba- Kope who were worst affected by the Water scarcity situation in terms of keeping personal hygiene, undertaking house chores and economic activities have heaved a sigh of relief.
"At first we wake up at dawn and trek miles to where they have to dig a hole to fetch water. The water was heavily contaminated and was smelly. Animals such as goats also drunk from that hole. We meet snakes and other dangerous reptiles. Even sometimes when you go you have to wait for hours before you get a bucket of water. Because of that, we use to bath once. Our gari business too was affected," Rita narrated.
Apart from the provision of water, each household in the community has been supported to build toilet facility attached with tippy tap handwashing device.
This has ended open defecation menace in the community while imbibing habit of regular handwashing with soap among the residents.
"Now everyone gets water to wash the hand. So I don't think we can get coronavirus here. At first, there was no available water to wash your hand but now we have borehole," the Opinion Leader, Nsandow Timothy said.
About 4 billion people, nearly two-thirds of the population of the world, face severe water scarcity and over 2 billion people live in countries experiencing high water stress.
In Ghana, it is estimated that about 38% of the population lack access to potable water and there are regional disparities and urban-rural disparities in water supply.
Women are most affected with the brunt of water stress as they are burdened with responsibility to meet water needs of their families and themselves. A research conducted in 25 sub-Saharan African countries by UNESCO World Water Assessment Programme in 2019 estimated that women spend not less than 16 million hours daily to collect drinking water, whereas their male counterparts spend 6 million hours.
Goal 6 of the Sustainable Development Goals(SDGs) enjoins countries to achieve universal and equitable access to safe and affordable drinking water for all by the year 2030.
Source: Ghana/Starrfm.com.gh/103.5FM/Kojo Ansah