Trainee nurses receive November, December allowances
Related Articles
Trainee nurses and midwives have begun receiving their allowances for the month of November and December 2017 after assurances from the government earlier this week.
The Ghana Nurses and Midwives Trainees Association confirmed to Citi News that a number of the trainees had received the SMS alerts on their phones confirming payment.
"Trainee Nurses have started receiving messages indicating that November and December allowances have been paid so we are grateful to the President and the Ministry of Health for their efforts in addressing our concerns," the Public Relations Officer for the Association, Akugri Avokbil Gadafi said.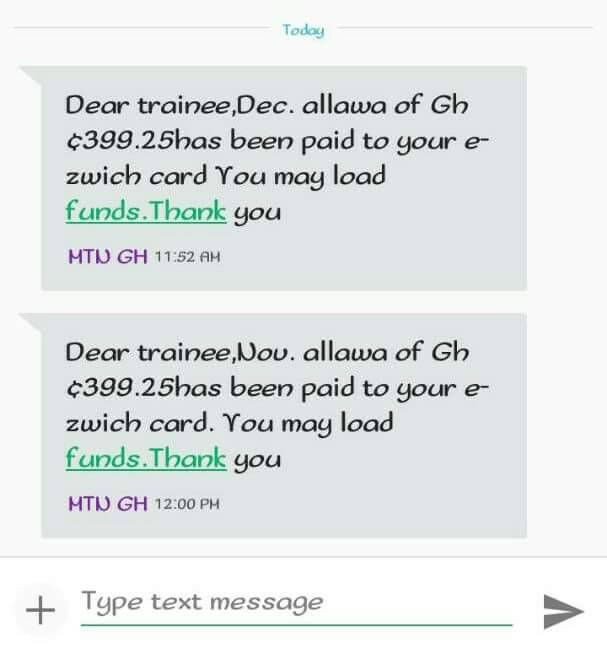 Some of the trainees had complained to Citi News that they had not received a pesewa since the official restoration of the allowances.
The status of such trainees remains unclear as Mr. Gadafi said, "for now, those who did not receive a pesewa [from Septmeber], actually we have not confirmed as to whether they have received from September or that of October."
Delays must end
Mr. Gadafi said his outfit couldn't "be sure whether after this issue, the issue of delays will be addressed" but he urged the Government to make sure the delays in payment do not recur.
"We have not faced much frustration but the issue is that the delay in payment is something that has been occurring since the restoration so we are hoping that the Ministry should try their best, as they have addressed our concerns and it [the delays] shouldn't repeat itself," he added.
The issue of allowance for trainee nurses became a major campaign point in the 2016 elections after the New Patriotic Party promised to restore the payments which were scrapped by the Mahama government.
The government restored the allowances of GH¢400, effective September 2017 with an elaborate ceremony to the joy of the trainee nurses who had complained about the hardships they faced without those funds.
President Akufo-Addo said an amount GHc232 million had been allocated for the stipend, with the health trainees set to receive GHc 400 each month.
–
By: Delali Adogla-Bessa/citifmonline.com/Ghana