The peace and tranquility which prevailed in the opening weeks of Coach Hebert Addo's demise has evaporated into an air of confusion, as a section of his family disagree with aspects of his planned funeral.
With the burial only 48 hours away, there is uncertainty about the exact location of his interment.
This was collectively confirmed to Joy Sports by the late Coach Addo's siblings Philip, Isaac and Kwame Osae and two of his children Pepertual and Nana Yaa. They blame the confusion on the late Coaches wife Gifty Acquah, whom they accuse of taking unilateral decisions.
The former Hearts and Kotoko coach, after battling illness, breathed his last at the 37 Military Hospital few months after a great career which saw him go a season unbeaten, a feat yet to be equaled since the Hearts 0f Oak class of 2002.
His unfortunate passing made him the sixth member of a Ghanaian coaching elite to have passed within an 18 month period. C.K Gyamfi, Ben Koufie, Osam Duodu, Sam Arday, E.K Afraine all departed the world and have left huge void in in the technical tier of Ghana football.
Reports of a state burial had already emerged and hopes were that Coach Addo will be sent off in a heroic manner. However, this idea may never be brought into fruition.
"The Minister of Sports, I understand was quite keen to go forward and make a presentation towards a state funeral to the president," his brother Philip Addo exclusively told Joy Sports.
"It was never actually decided that it was going to be a state funeral but the protocol was being followed. So obviously this brought some confusion to the family."
"I believe it was the current wife who was married at 3-4 months prior to the demise of Hebert Addo declined for us to have a state burial.
Unfortunately, issues seem to have taken a nosedive. The common ground of every man, which is burial, is being heavily disputed by the family of Coach Addo and doubts remain as to where he will finally be laid to rest.
"We are not clear as to the exact location of where coach Addo would be buried. At the moment, we are saying that there is a covenant between Hebert Addo and the former wife that when they both died they would both be buried next to each other in Accra."
"He would want to be buried in Accra next to his former wife. However, a small section of the family who latterly came into the picture, have decided that they are going to bury him in Aburi."
"Against Hebert's wishes, against the former wife's wishes and that has caused a great concern for the former wife's family."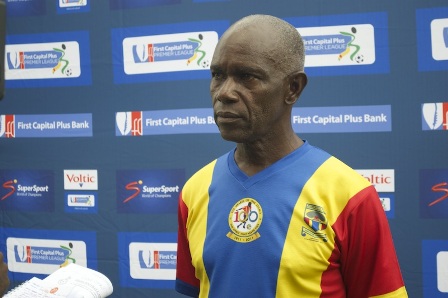 Coach Hebert Addo goes down in history as the only coach to have won the Ghana Premier League with four different clubs – Asante Kotoko in 1988, Goldfields S.C now Ashgold in 1994/95 and 1995/96, Accra Hearts of Oak in 2002, and Aduana Stars in 2010.
In terms of national team assignments he coached Ghana's Under-20, under 23, the local Black Stars and the main Black Stars. He was also named SWAG coach of the year award in 1987. Coach Hebert Addo will be buried on his birthday of June 24.
Source: Kweku Arhin