V/R: Cured lepers appeal for support as they run out of food, essential drugs
Related Articles
Authorities at the Cured Lepers Village in the Volta regional capital of Ho have bemoaned the state of life at the facility following the shortage of food and essential drugs amidst the Covid-19 pandemic.
According to the caretaker for the place, Nelson Attitoe, the facility has for the past few weeks faced challenges in having to feed the inhabitants; thus calling on government and the general public to help supply them with foodstuffs.
He said, "we used to receive support from the public especially the churches but because of the Covid-19 pandemic those donations have seized. We have two boreholes here but they are all dysfunctional now. We need government to support us because life is becoming extremely difficult for the inhabitants here."
The Cured Lepers village was built in 2006 by the a Non-Governmental Organization, Cured Lepers Foundation.The facility currently houses over 60 cured lepers and some other persons.
Feeding at the facility has always been dependent on donations from the public. However, life in recent times has become difficult as such donations have ceased following the Covid-19 outbreak leaving the inhabitants in destitution.
90 year-old Mary Ahiale, who is said to have been at the facility since its establishment told Starr News that she feels abandoned.
"Since Nkrumah's time, government used to feed us but that has stopped for a long time now. I am bedridden and can't do anything so we appeal to government to turn attention towards us," she laments.
According to Rejoice Nikabo, leader of the cured lepers, they have also been denied access to government's LEAP program.
She noted that, "the LEAP program was helping us in several ways but some of us have since been removed from it, making things worse for us.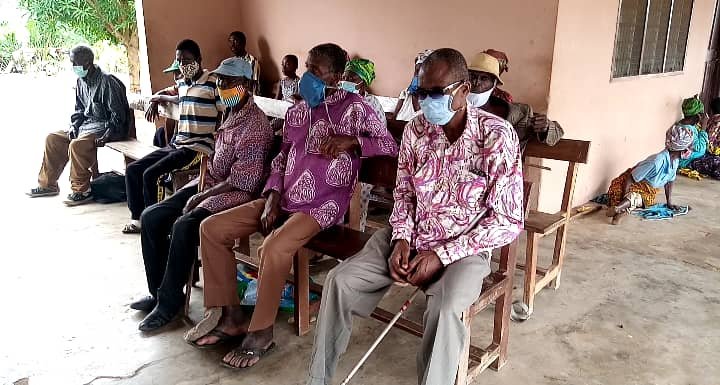 I am calling on government to enroll us back onto the program before the 2020 elections because we may not go out to vote if things continue this way."
Though there is a health post at the Village the facility is also said to have run out of essential drugs, whereas health personnel at the facility also told our reporter that the facility has since not received any PPEs in line with the Covid-19 protocols.
Meanwhile, a UK based NGO, The Well Foundation has donated some seven Butterfly Sewing Machines to the lepers to enable them engage in some vocational skills and training to support their livelihood.
Presenting the items on behalf of the NGO, Frank Ahiaxornu (Executive Director of Viscare Foundation) also appealed to the public to come to the aid of the cured lepers.
Source: Starrfm.com.gh/103.5fm/Faisel Abdul-Iddrisu