V/R: Man threatens suit over false COVID-19 'diagnosis'
Related Articles
A 26-year-old resident of Akatsi Tatorme in the Volta Region Wonder Ameza, who was declared to have contracted the deadly novel coronavirus some weeks ago, is contemplating legal action against authorities at the Akatsi South District Assembly as his test result turns out negative.
On Sunday, May 17, news went viral that the Akatsi South District had recorded its first case of Covid-19.
The reports published by the Ghana News Agency on its online portal indicated that the patient was a tiler, who worked with a German national in Accra but returned to Akatsi few days before testing positive.
The report also quoted Dr. George Nyarko, the Akatsi South District Director of Health Services as the one who confirmed the story while adding that the victim was being quarantined in a family house in Akatsi Tatorme where he would be transferred to Ho for further medical attention.
But according to a press release signed by the victim, Wonder Ameza dated Sunday 6 June, 2020 the report was nothing but falsehood.
Recounting the incident, Mr. Ameza said, "On Thursday 14 May, 2020 at around 2pm I went to a pharmacy to buy a medicine I have been using to manage myself since I am an asthma patient but the pharmacist asked me to go for prescription at the hospital before I return for the drug and I obliged.
During interrogation and screening at the hospital, I informed the team that I was having difficulty in breathing, as I am an asthmatic patient."
After the interrogation, Mr. Ameza noted that he was informed that he was suspected of Covid-19 and was asked to leave his address and contact details, while he was handed a bottle for a specimen of his saliva and was asked to go home.
He said, "the next day, they came to my house for the specimen and asked me to prepare myself to be taken to the isolation center as they await the test result."
He noted that on Saturday 16 June, he was informed that an ambulance was coming to pick him to the isolation centre but didn't hear from them.
He recalled that, "on Sunday, I called to find out why the ambulance didn't come and I was told it was involved in an accident, while they advised me not to go out because they had announced on radio that I was already taken away.
On Monday, "they gave me three balls of kenkey and Gh¢5.00 and asked me to stay home while they called another ambulance. But on my return from my family house at about 5pm, I met one of the men in town who asked the motor rider to take me to the Akatsi district hospital while he followed," adding that, "all along, I was moving freely in town."
Though the victim was transported to Ho in the bucket of a pick-up vehicle that evening, he told Starr News that he was not attended to until the 3rd day.
"I was not attended to until the 3rd day when I complained of chest pain. It was then that they took my specimen for testing, which came out negative."
He added, however, that he was asked to stay at the center for two more weeks while he was administered paracetamol and Citro C.
According to him, a second test conducted on him turned negative and so, he was discharged with two others same day.
Mr. Ameza said he was conveyed by the same pick-up to join his family on Sunday 31 May, 2020 while indicating his displeasure at how his case was treated.
"I was taken back home on Sunday 31 May, to join my family without any prior orientation, no contact tracing or even a fumigation exercise," he said.
While disputing all claims about testing positive, he indicated that he was is considering a legal action against the authorities for putting him through public ridicule.
"I was not quarantined in my family house as published, neither was I working with a German. I do not doubt the existence of Covid-19 but the declaration of confirmed case in Akatsi South and me, in particular, is false."
He emphasized that, "while I go through the stigmatization due to the unprofessional manner my case was handled, I am seeking legal advice."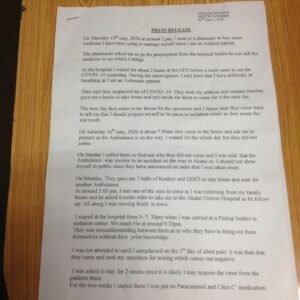 Source: Starrfm.com.gh/103.5fm/Faisel Abdul-Iddrisu