V/R: Remote Brada Tornu community gets six-unit classroom block
Related Articles
The North Dayi District Assembly has completed a six-unit classroom block facility at Brada Tornu, a deprived community down the Volta Lake.
The classroom block will address the infrastructural challenges facing the community's primary school which has been without a modern infrastructure since 1984.
Prior to the building of the new facility, teaching and learning was done under trees and improvised shades for the entirety of the school's 33-years of existence.
According to Togbe Dei Kudjo, Regent of Bradatornu, the community has suffered neglect for several decades as they continue to battle numerous challenges.
"We have been ignored for more than 40-years, we don't have electricity, road or a health facility but key among these challenges is the poor state of infrastructure for our school, where our children are supposed to study.
The situation was such that, when the rain comes, the children have to stay home because the structure we used to have was very bad and so, some people had to take their children out of the village to go and stay with relatives elsewhere so they can school there," he lamented.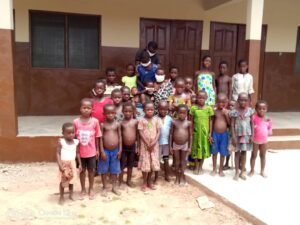 He added however that, "now that the DCE, Mr. Kudjoh Attah has brought this facility to us, it means our children would not travel to Botoku for school again, they'll study here even if it's raining. We can only be grateful and hopeful that he continues to reach us with his good works."
According to the District Chief Executive, Kudjoh Attah, it is his joy that school children would now have the comfort of learning in a well furnished classroom when school reopens following the completion of work on the project.
"It is my joy to realize that school pupil after several years of learning under some unbearable conditions would now sit comfortably in a well furnished modern structure for their studies.
Accessibility to quality education is non-negotiable and just like pupils in schools in Accra and the big cities, pupils in schools like the one here (Brada Tornu) would sit and write same examination and so, it is only prudent they have the needed facilities for their education," he stated.
The DCE added that, "I know the school needs a JHS facility and accommodation for teachers and so, we have began another project towards that challenge to ensure that the pupils have their JHS education here without having to walk all the way through the mountains to Botoku, a journey that could last for two hours before accessing education."
The new classroom block comes with an office, staff common room and a store.
Blada Tornu is a fishing community along the Volta Lake in the North Dayi District of the Volta region. It is a settlement with over 540 residents that started in 1962 with people coming from Battor, Vume, Sokpe, Dabala and Tefle areas in the Tongu enclave to settle for fishing and small scale farming.
Source: Starrfm.com.gh/103.5fm/Faisel Abdul-Iddrisu