War on armyworms as ministry declares 'agric state of emergency'
Related Articles
Parliament has been asked to declare an 'agricultural state of emergency' as an armyworm invasion puts a GHC560m agricultural project at 'serious' risk.
Describing the invasion as requiring urgent response, the Agriculture Minister Dr Owusu Afriyie Akoto wants to rope in parliament to wage a war against pest capable of leveling farms to 'ground zero'.
In a memo to Cabinet, the minister has asked that parliament to allow unbudgeted funds for a mass spraying exercise in an attack said to be no respecter of farms or farmers.
Agriculture Minister Dr Owusu Afriyie Akoto
The "fall army worm" is not actually a worm. It is a super-hungry caterpillar that eats up crops before it grows into a butter fly.
They look dull yellow to gray in colour with stripes running down the length of the body.
They lay their eggs on seedlings and leaves of plants and within 5 to 10 days, the tinny caterpillars hatch to launch a massive onslaught on food crops.
The pests attack leaves of crops, flowers and even the stalk.
They feed on several crops including -staple food source – maize, cotton, soya bean, potato and the cash crop – cocoa.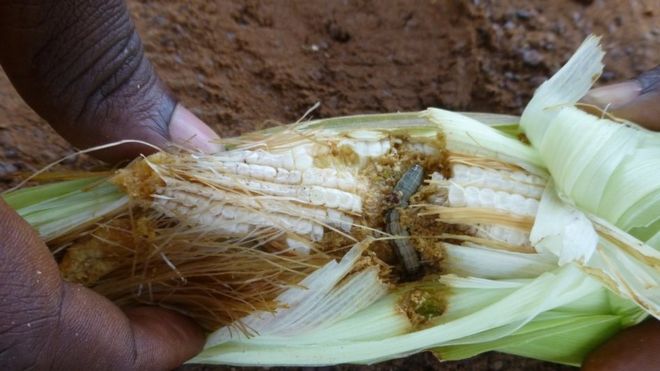 It leaves man in a desperate competition with worms over food.
In a testament to its voracious appetite, 500 acres of maize farms in 13 districts the Ashanti region have been destroyed.
The pests have destroyed farms in Zimbabwe, South Africa, Nigeria, among others, and the Food and Agric Organisation has warned they can cause food insecurity on the African continent.
In Ghana, the army worms have invaded farms in the Ashanti, Brong Ahafo, and Eastern regions spreading unchecked.
A distraught farmer who spoke to Joy News lamented " we lose money because we lose yields and our lives become poorer".
Another found the situation a case of déjà vu.
"Last year, we had the same issue at Mampong. This year too we still have the same issue" he told Joy News' Joseph Opoku Gakpo.
They invade fields annually but farmers say it has been more severe this year.
A severity occurring in the same year as government launches a GHC560m Planting for Food and Jobs Program.
It is to inject a massive boast in food production through the supply of improved seedlings and fertiliser at subsidized prices and also provide extension services.
The program which will also create marketing opportunities for farmers is expected to create more than 700,000 direct and indirect jobs.
But all this stand in direct collision course with armyworm.
Programs Officer of the Peasant Farmers Association Charles Nyaaba fears the attack bring the ambitious program to 'square one' if government fails to act.
"The farmers don't really know what to do…" he revealed a collective helplessness.
"It is so massive that even if one farmer should spray his farm, the disease will still spread to the other farms.
"One person cannot control it so we need mass spraying exercise" Nyaaba recommended.
The Agric ministry wants Parliament to allow the allocation of funds to buy chemicals for free distribution to farmers to deal with the pests.
In the meantime, it says the ministry's Crop Pest and Management Division has sent extension agents to advise farmers on what to do when an invasion is suspected.
In the survival of the fittest, a worm may prove fitter than man if measures are not put in place to halt the feeding instinct of tiny worms.
Source: myjoyonline.com