Uber's new chief executive Dara Khosrowshahi will be in the UK on Tuesday for a meeting with Transport for London (TfL). He hopes the negotiations will stop the imminent revoking of his company's license to run its ride-sharing business in the capital.
When TfL, backed by Mayor Sadiq Khan, announced Uber would no longer be allowed to operate, the service's 3.5m users, and 40,000 drivers, were aghast.
Despite the very best efforts of the cab trade, Uber has become a valued way for Londoners to get around, particularly late at night.
The same was true in Austin, Texas. It's a city that shares few similarities with London, other than its own bitter tussle with Uber – the fallout from which could contain clues as to what might happen if, and it's a big if, TfL follows through with its threat.
Uber had been available in Austin since 2014. But on 10 May 2016, Uber (and rival service Lyft) turned off their apps and left.
Less than 24 hours earlier, Austinites had gone to the polls to vote on Proposition 1. It was a law that removed a requirement on ride-sharing companies to gather fingerprints as part of their background checks on drivers, as well as sharing more data with city officials.
Uber didn't want to do this. It argued that the fingerprint database drivers would be cross-checked against would be ineffective.
It's also likely – though Uber never expressed this publicly – that adding a layer to the sign-up process would make it more time-consuming, and expensive, to recruit drivers.
It's something the company, in all the markets it works in, constantly seeks to avoid – and in Austin it was prepared to spend big to avoid the restrictions.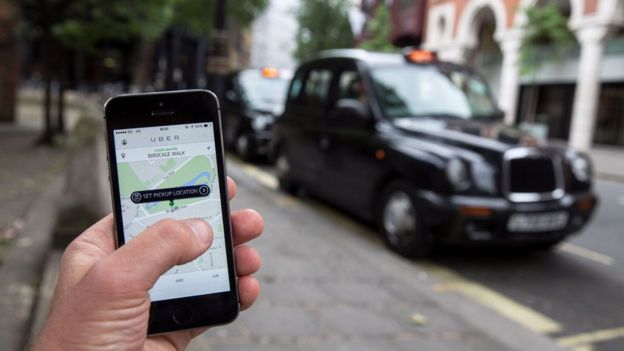 Fierce lobbying
David Butts, a political consultant who campaigned against Uber during the dispute, estimates that the firm spent more than $10m (£7.5m) fighting city officials.
"We have never seen a campaign that spent that much money, for anything," he said.
Uber did not respond to the BBC's request to comment on this story.
Whatever the size of the lobbying bill, it wasn't enough. Mr Khosrowshahi said Uber's poor corporate reputation may have been a factor in TfL's thinking, and the same may have been true for Austin's voters, according to Ben Wear, a reporter for the Austin American-Statesman.
"I think a lot of people that actually actively used their service here in Austin voted against them, knowing that they'd leave, because of the corporate behaviour that at that time had gone on for about two years.
"They showed up and basically ignored the city's rules."
And so just like that, Uber and Lyft were gone.
Alternative apps
Andy Tryba and his team got to work. "We basically stayed up all night for about four weeks or so to kind of get it up and going," he told me.
"It's to my knowledge the world's only non-profit version of ride-share."
He's the co-founder of Ride Austin, a locally developed app that stepped in to take Uber's place – one of about 11 eventual alternatives that popped up in the weeks and months after Uber's disappearance.
Unlike Uber and Lyft, which take a percentage of a ride's final fare, RideAustin takes a fixed $2 fee, regardless of how long or far the journey.
Riders are offered the chance to round up their fare and donate the extra amount to a number of charities – it has so far raised over $250,000.
"There were 125,000 a week or so that were occurring in the city when Uber and Lyft were operating here. Obviously, the day that they pulled out there was a bit of an adjustment period.
"But within a few weeks, there were several players that came into town. Very quickly that total number of rides were filled by those other players."
Saturday night failure
There were teething problems with these new apps, said Mike Allen, who has driven in Austin for almost two years.
"It was a fun challenge to get them to a point where they were able to work for us as drivers," he said. "But we got there."
The real test came when it was time for the most famous event in Austin's calendar – South by Southwest. The tech, music and film festival draws thousands to the city every year, and in 2017 it presented the new apps with their biggest challenge yet in handling the demand.
That challenge grew too great on the middle Saturday of the festival, when as afternoon rolled into evening, it started to pour down with rain.
I was among those hopelessly opening up apps trying to find one that was still working. RideAustin buckled, as too did Fasten, another app that had moved into the city when Uber left.
"Technical issues are just part and parcel of tech businesses," said Vlad Christoff, co-founder of Fasten.
"We had braced for a 10x increase… we got 17x. Yes – we had a little bit of a hiccup!"
Big boys back in town
But by June, Uber and Lyft were back. There hadn't been a compromise on security or data. Instead, state power in Texas overruled Austin's local decision by creating statewide rules on ride-sharing that did not insist on fingerprint checks.
Within a week, one Austin app, Fare, had folded. RideAustin saw its bookings drop by 55% – and it hasn't ever recovered.
The local apps all maintain that they have plenty of drivers, who make more money on their apps per trip than Uber or Lyft. And though it's difficult to measure independently, the fares are the same or cheaper too.
Which makes you wonder – why did users go back to Uber and Lyft?
"They are very good at leveraging their cash position to do lots of free rides and promotions to get their share back," Mr Tryba said.
Fasten's Mr Christoff thinks brand recognition beyond the city is the problem.
"The part that we've lost is visitors. For one year people landed at Austin's airport, and they found out the hard way that the default ride-sharing apps on their phone didn't work.
"Once Uber and Lyft came back, business continued as usual. [But] the locals stayed with us."
Drivers too have turned more frequently to Uber and Lyft instead of the smaller apps.
"It boils down to the quantity of rides," says Mr Allen.
"When you're getting 10 requests on Uber to every one request on RideAustin, you've got to go to where the rides are. Right now Uber is paying me the most money, but per ride RideAustin is the best."
London calling
I think it's unlikely that Uber's troubles in London will reach such a breaking point that the company ends up being forced off the streets.
The appeal process keeps it on the road for the foreseeable future, and when dealing with city officials, Uber's new CEO Mr Khosrowshahi has hinted at an ever-so-slightly more understanding approach than the man he replaced, Travis Kalanick.
If Uber does leave, there are already a number of apps already in play (not to mention black cabs) that would seek to pick up the extra business – and the orphaned drivers.
Both RideAustin and Fasten said they would consider looking at London as a new market for them, but had no immediate plans.
"There is life after Uber," Mr Christoff said.
For political consultant David Butts, who worked with Austin City Council on the issue, the entire dispute speaks to a bigger problem of billionaire-backed start-ups believing they are free to dictate the rules.
To city officials in London, he says: "Stand up to them."
"Don't cave in. They're not as strong. Make the case to people: do you want a corporation dictating to the City of London?"
Source: BBC