Last year I had to end my pregnancy because my little girl was too ill go full term. It was devastating and there's not a day goes by that I don't think about her.
One thing I have learned over the past year, is just how many people go through an experience like this, and yet it's simply not spoken about.
Is it because people don't know what to say? Is it because people are frightened of upsetting you, or is it simply because it's just too tragic a situation to even comprehend. That it's easier to say nothing?
Who knows?
Half the battle with baby loss is dealing with other people's reaction to it
One thing you do have to deal with is the well-intended people who panic so much about saying the right thing that nine times out of 10 they get it completely wrong, much to my amusement.
Among the inappropriate comments I had last year, were:
1) "Oh you've got loads of presents. You should lose a baby more often."
2) "We've had a chat and we'd like to offer you our sperm." (Five days after I'd given birth)
3) "You've lost weight, how've you done that?"
Half the battle with baby loss is dealing with other people's reaction to it, and to you, and not only have you got all that going on but of course there's the admin to deal with.
I'd signed up to the usual websites, Boots Mother & Baby pages, Mothercare, the "What fruit is your baby most like?" apps (which led to anxiety for a week, when it was a grapefruit, because I was convinced I was going to hate my child… I hate grapefruit) Also, the baby name sites, hypnobirthing and NCT.
Cancelling these however, isn't as easy as just clicking a button to subscribe. There should be another button that says, "Oh dear, you're no longer pregnant, we're so sorry, press here and we'll say no more." But there isn't. And then there are the Facebook targeted ads. And the junk mail. And and and. The list is endless.
When I got pregnant at the age of 41, it was a shock to say the least. It wasn't supposed to happen because three years earlier, medical types had told me my dusty womb was barren.
It was wonderful but it completely floored me.
At the 12-week scan I was nervous. I was scared my baby would be diagnosed with one of the three conditions they were looking for: Downs, Edwards or Patau's. I hadn't heard of the other two, but Downs I thought was a high risk given my age. If the baby had had any of these then I guess that I'd have dealt with it.
The test results came back and all was fine. Except me. I couldn't get excited. My midwife said that your pregnancy controls you, you don't control it and in hindsight it makes sense now. At the time I put my lack of enthusiasm down to the fact that I felt absolutely awful. Sickness morning, noon and night. Having to nip off at gigs to vomit in between acts was a joy.
It wasn't until I asked what sex the baby was that it hit me
At the next scan, I was excited, for the first time in five months. My friend came with me. We were excited to find out the flavour of the baby. Then, suddenly, I heard the sonographer say: "I'm just going to stop the scan here. I'm seeing irregularities that I wouldn't normally expect to see at this stage."
I just lay there, wondering what she was on about. She pointed out that the baby wasn't well. Its body wasn't growing the way it should. Its limbs were shorter than expected and there was a possibility that the baby had skeletal dysplasia, a condition I hadn't even heard of, let alone considered.
"Is it because I don't drink milk?" I asked, panicking, and thinking I hadn't been doing the right things. "No. It's nothing you've done; it's unfortunately one of those things. It means that the sperm and egg just weren't compatible during conception."
She sent us to another hospital for a second opinion straight away, but in the car I knew it was game over. I just knew. The second hospital confirmed it with a bit more detail. The bones weren't growing properly, the main issue being with the ribcage.
It didn't feel real. It was like she was talking to someone else and it wasn't until I asked what sex the baby was that it hit me. The sonographer confirmed it was a girl and suddenly it – she – became a real person, instead of this little alien growing inside me. Knowing her chest and ribcage were crushing her lungs was devastating.
I was booked in to see a foetal consultant the following week and the days in between were the longest of my life. All I wanted to do was sleep and not wake up until it was over.
"Your baby won't survive outside of the womb," the consultant said. "She could live a day but her lungs just won't cope."
Game over. I had to terminate my baby's life.
Period pain they said, it might be a bit worse than period pain – yep, well, it was
The main question for me was, would I have to give birth to her? I couldn't bear the idea of having to go through that. And my worst fears were confirmed. It wouldn't be safe for me to do otherwise.
I started the process that afternoon. You get given a tablet that prepares the womb. You go home. You wait two days and then you're booked into hospital where they induce you, and the worst day of your life begins. They call this "medical management".
My friend came with me. She was amazing, as were the nurses. Like, amazingly fabulous. So sensitive to the situation. And step by step they talked me through what was going to happen.
You're bombarded with questions. Do you want a post mortem? Do you want to see her when she's born? What about the funeral? Gahhhhhh! I don't know. The only thing I did know was that I definitely wanted her body to be left to medical research. Something positive had to come out of this, and if she could help answer a few questions about her condition then this had to be the right thing to do.
If you've ever been induced in pregnancy, you'll know it's not a picnic. It was around 3pm, and they put hormone tablets up into my cervix.
Period pain they said, it might be a bit worse than period pain. Yep. Well, it was. For a bit, then it got worse. I was given diamorphine around 6.30pm and I managed to float off with the fairies for a few hours, until it wore off and the pain was unbearable.
The doctors had only signed me off to have one shot of morphine, so the nurse went off to get me signed off for another one, and while she was out of the room, my waters broke.
I had been instructed to give birth over a bedpan in the toilet (I know, glamorous). My mate was with me and held my hand and my baby was born pretty much straight away, over the loo, around 9.50pm. Classy. We waited for the nurse to come back and then this is when the fun began because I couldn't birth the placenta.
The nurse bought her in, in a tiny Moses basket – se was wrapped up like a new-born baby
I had to get back to the bed so the nurse followed me back, holding my baby between my legs, because she was still connected to me via the umbilical cord and the placenta, which wouldn't shift. I pushed. I really pushed but nothing.
The baby was detached and taken away. The nurse spoke to her like she was a little person, like she existed, like she was my daughter, which was so comforting.
Then it all got a bit bonkers. The bed was surrounded by people, a doctor tried to manually remove the placenta, which was the single most painful thing during the whole scenario. That didn't work, and I was rushed down to theatre.
I had an epidural. By this point I was tired, drugged, slightly delirious, and could not care less about what was happening to me.
The day after, I was checked over, I got my legs back and I was anxious to go home. I knew at some point the nurse would come back and ask if I wanted to see her. I hadn't been sure I would want to, but I knew if I didn't meet her I would regret it for the rest of my life. I was just dreading it because I didn't know what to expect.
The nurse bought her in, in a tiny Moses basket. She was wrapped up like a new-born baby and covered in knitted blankets, a little knitted toy by her side.
Her head was larger than I had anticipated and a reddy purple in colour but her little face was pink. Her tiny nose and mouth were perfect. The nurse took out her fingers, which were tiny and I just couldn't believe this little person had been growing, in her own little way, inside me.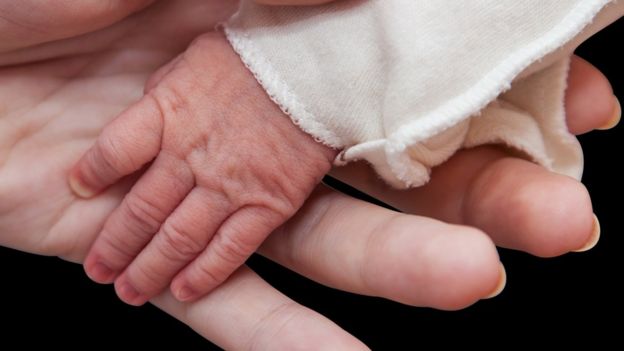 Image caption I was sorry for not ever getting to meet her properly.
She was amazing. Yes she looked odd. Yes, she looked alien-like at first glance but when you'd been with her for a bit, you stopped seeing the unusual bits and just saw this little girl's face and fingers. My little girl's face and fingers. She looked so fragile, so delicate.
I stroked her tiny cheek, and she was cold to the touch but she felt so soft. I kissed my finger and kissed her cheek with it and all I could do was say sorry to her. I was sorry for not ever getting to meet her properly, for not being able to do the things other mums did with their daughters, for not being able to feed her, or change her nappy, or be a mum to her. I felt so sorry for that.
The hospital took photos of her and gave them to me in a card with her name on it. I can't show those pictures to anyone because they wouldn't see the baby that I saw. They wouldn't see my daughter's beautiful face. They would see her illness. I don't need to hear what other people think. There are no words in this situation. And I wouldn't want them.
After the worst week of my life had been and gone I did what I always do when I'm upset and stressed beyond comprehension, and that was to move all the furniture around in my flat, and clean it within an inch of its life, stinking of Eau de Domestos for about a week.
I started to try and get rid of all the baby things I'd bought. I'd bought a sterilising unit and gave that to my friend who had just had a baby, I'd bought a cot, and gave that to my friend who was due a baby, and I began to make patchwork blankets for other friends, that were having babies. I was surrounded by babies. Everywhere. But what do I do? Ignore my wonderful friends because of their good fortune and never see them again? No. I love them.
There we all were, all of us affected by the personal tragedy in front of us, in a box
I managed to create a massive blanket, and it's beautiful. Unfortunately you can't use it as a blanket because I managed to leave most of the pins in it and I can't get to them to take them out because I've sewn the backing on, and I'd have to unstitch the whole thing, so it's in a box in my room, as it's basically a health and safety nightmare. But it was a good distraction leading up to the funeral.
When I went to buy a waterproof mascara the week before, I wasn't prepared for the cashier to ask what it was for.
"Sorry?"
"The waterproof mascara. Wedding or funeral?"
"Oh… funeral."
"Was it anyone close?" and for a split second I didn't know what to say. I'd not had to tell anyone I didn't know yet and so I just said, "My daughter."
She gave me my change and walked off crying. It's weird hugging a stranger because you've made them cry with your situation. I got used to it in the end because most of my friends cried when I told them, and in the end I got hardened to the fact that I'd have to comfort other people when it should have been the other way round.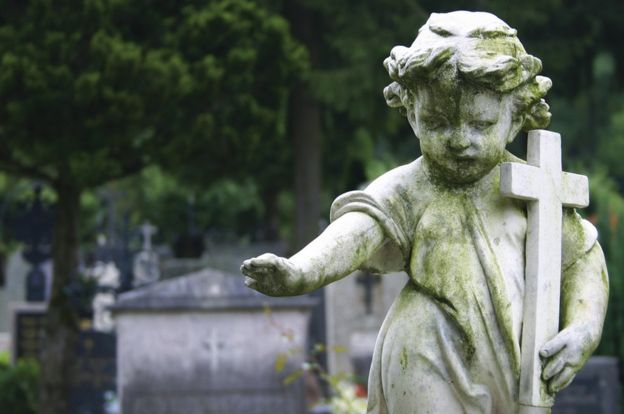 Image caption The funeral was almost as harrowing as the birth itself
The amazing hospital organised my daughter's funeral alongside others that hadn't made it that month.
Unfortunately due to an error with bank holiday dates, my parents and I were a week early and inadvertently turned up at an old man's funeral, which is exactly how I love spending my spare time with my parents. So we went home that evening, drank a shed load of wine and had another go the following week.
The real funeral was almost as harrowing as the birth itself, but it's important to acknowledge these little lives.
All the caskets were placed at the front of the chapel and there was a 30-minute service. The grief in that room was claustrophobic but weirdly comforting. There we all were, all of us affected by the personal tragedy in front of us, in a box. I wanted to talk to the other mums, I wanted to hear their stories, I wanted us all to be united in our grief. But, typically, in our very British way, we all went about our business, heads down.
It's been just over a year now, and I'm over the milestones that I was worried about. Christmas, Mother's Day and her birthday. But I strive on. I'm trying to write my Edinburgh show about what has happened (I know it's sure to be a barrel of laughs… insert scared face emoticon here). And through adversity positivity reigns, and hopefully writing about it will help people who have to endure this pain, and educate others.
Source: BBC